$2,500 Military College Scholarship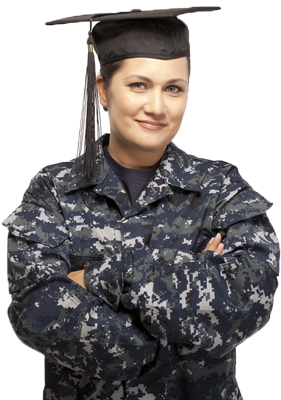 Veterans and active servicemen and women make sacrifices for our country every day. Because of their actions, America remains a nation of freedom and safety. We want to do everything we can to give back to those who have given so much for this country already. Not only are we committed to helping military veterans and their families get the best housing available, but we also want to help these heroes and their loved ones do so much more. After all, a house is just a part of the American dream that our soldiers fought for. Pursuing an education so that you can get a career doing what you love for the rest of your life is another important part of it. We won't stop at just housing when it comes to helping our heroes.
That's why Low VA Rates would like to present our semiannual $1,250 college scholarship to a deserving military student. The money will come in two increments during the fall and winter semesters of each year. The company is currently accepting applicants for the Fall 2019 college scholarship.
Who Can Enter?
Military students currently enrolled in college may enter the contest, and there is no age requirement for the college scholarship applicants. Children with a mother or father serving in any branch of the U.S. Armed Forces are also eligible to apply.
When Is the Deadline to Enter?
We are now accepting applicants for the Winter 2019 semester scholarship. All entries must be submitted by July 5,2019, at midnight. The winning applicant will be selected on July 7th and announced no later than July 15, 2019. Submit your application online clicking on the "Apply Now" button on this page.
Can Anyone Nominate an Applicant?
Yes. The applicant, a family member, or a friend may nominate a qualified applicant. However, the online application still must be completed to apply for the military scholarship. If the person nominating wants to nominate a potential applicant without their knowledge, the person nominating should complete the online application for the potential nominee.
Do I Have to Currently Be Enrolled in School to Qualify?
Yes, you have to be a student to apply. Students can use the scholarship any time in the year, regardless of whether or not classes are in session. The $1,250 prize can only be put towards tuition or textbook costs at an accredited college or university.
Any Other Questions?
If you have any other questions or need more information please email your questions to pr@lowvarates.com.
Could I Be the Next Scholarship Winner?
You never know until you apply! Without our heroes in the military, this country wouldn't be the "land of opportunity" that it is today. Together, we can give you an opportunity that will help you achieve your dreams. It's what you deserve.
Don't let this amazing opportunity pass you by. You could be the next winner of our Winter 2019 scholarship! Find out if you qualify and apply today.
---
Other Military Scholarship Opportunities
Blue Kangaroo Military Scholarship
Blue Kangaroo, a data technology company located in California, offers a Community Leadership Scholarship to former and existing U.S. military service members and their spouses who display leadership in their local community. The scholarship's goal is to help with the cost of furthering undergraduate education at an accredited U.S. college or university.
Scholarship Name: Blue Kangaroo Community Leadership Scholarship for Military Families
Scholarship Amount: $1,000
Scholarship Entry Deadline: TBA
Scholarship Details:
Blue Kangaroo recognizes the invaluable sacrifices that military personnel and their families provide for our communities. We are honored to offer one scholarship to be awarded to a servicemember or spouse of a servicemember who exemplifies a commitment to improving his or her community by bringing people together and enacting positive change. For your chance to receive a $1,000 scholarship, tell us how you are making an impact on your community and inspiring others.
Requirements:
Current or previous service in any branch of the U.S. military OR be the spouse of an active or retired military servicemember.
Enrollment in a Fall 2018 undergraduate program at an accredited university.
GPA of 3.0 or higher.
Participation in a community project or program.
Essay describing your accomplishments in helping your community (~500 words).
Photos or a video of your initiative.
Letter of recommendation from a professor or community leader.
Proof of military service
To learn more, or to apply, visit http://www.bluekangaroo.com/page/military-scholarship
---
Additional Information
Marketing Disclaimer: Applicant information will be used solely for the purposes of scholarship evaluation. No applicant information will be used for marketing or any other purposes.

Past Winners
Click here to see more.