VA Refinance Options
The VA refinance loan program offers a great deal more flexibility than conventional refinance loan programs. Because of this, VA-eligible borrowers have a lot more options and a lot fewer restrictions when it comes to the VA loan refinance. VA refinance loans can help reach many different goals, including getting a lower monthly payment, consolidating other non-mortgage debt like credit cards, making improvements to your home, or even to pay off your home more quickly. There are specific VA home loan refinance options that are optimized for each of these situations. The two most popular options for veterans is the VA IRRRL and the VA cash-out refinance.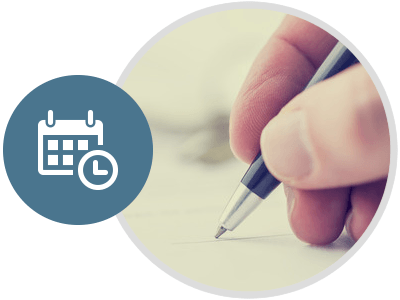 VA Streamline Refinance Loan (VA IRRRL)
Refinance an existing VA loan quickly through a very short application process. Look for better terms and a lower VA mortgage rate on your refinance.
The VA Streamline Refinance also know as the VA IRRRL, cuts out most of the underwriting normally associated with a VA refinance, making this a much faster and more convenient option if your goal is to reduce your interest rate, monthly payment, or loan term.
The VA Streamline Refinance loan (officially called the Interest Rate Reduction Refinancing Loan, or IRRRL) is the simplest and most popular VA refinance loan option.
Though it does not offer a cash-out option or debt consolidation, the VA streamline allows veterans that already have VA loans to refinance in a quick and easy way, with lower interest rates and better terms than they currently have. The primary attraction of the streamline refinance option is that a streamline refinance can take most of the underwriting from the existing loan. Here at Low VA Rates we specialize in these loans and feel we are an experienced and efficient VA streamline refinance lender.
Some benefits of the VA Streamline Refinance loan are:
No appraisal requirement*
Reduced credit score standards
No disclosure of income or assets
No out of pocket closing costs
Up to $6000 available for Energy Efficient home improvements
Opportunity to defer two months mortgage payments
Cash refund of available escrow balance
The idea behind most mortgage refinance loans, including most VA Interest Rate Reduction Refinance Loans (IRRRL), is to take advantage of lower interest rates. Interest rates change relatively frequently, and the VA interest rates are no exception, so it is often in the borrower's best interest to keep an eye on VA streamline refinance rates. When the interest rates are lower than when he/she bought their home, it's often a good idea to use the streamline refinance option to refinance the home. There are restrictions to who can use the IRRRL and under what circumstances. In order to be able to use the VA IRRRL, one of the following must be the case:
The streamline VA refinance results in a lower interest rate; the new loan has a lower interest rate than the old one. The VA will not allow a refinance that results in a higher interest rate.
The only exception to the above is if the veteran is refinancing a VA Hybrid ARM loan to a fixed rate loan. When this is the situation, it is perfectly acceptable for the fixed interest rate to be higher than the current rate on the Hybrid ARM.
There are other, more general requirements for an IRRRL, that are not specific enough to go into detail here, but they include things such as net benefit to borrower, value of the home, FICO scores, etc.
To summarize the above, an IRRRL cannot take place unless the borrower is noticeably benefitted by the refinance. This stipulation is a very important part of the VA loan program and is something that those of us at Low VA Rates are passionate about. We focus on the true intent of the VA streamline program and nothing matters to the VA except whether the veteran is getting true benefit out of the refinance. Because of this, you can rest assured that if you qualify for a streamline refinance, it will bring you a significant amount of benefit.
If you've purchased your home with a VA loan, you'll likely remember how many hoops you had to jump through to do so, and probably are not very eager to do it again. The streamline refinance option is so named because it exists to make the refinancing process as quick and painless as possible. It's not unusual for an experienced VA lender to be able to get the refinance done from start to finish in under a month. A streamline refinance offers far fewer headaches and issues to be dealt with than a typical refinance. In addition, the VA Funding Fee and all of the VA closing costs on a streamline refinance are greatly reduced.
So, if you are a veteran home owner, apply now for a VA Streamline Refinance and see if you can get a lower interest rate and better terms on your mortgage. Many veterans have saved more than $100 per month just by refinancing, and some upwards of $300 per month. Many who save on their monthly payment also end up being able to pay their home off faster and save lots of money.
* Based on information we are receiving from lenders, appraisals may indeed be required on VA loans in the very near future. Therefore, the window of opportunity to refinance without an appraisal may be closing quickly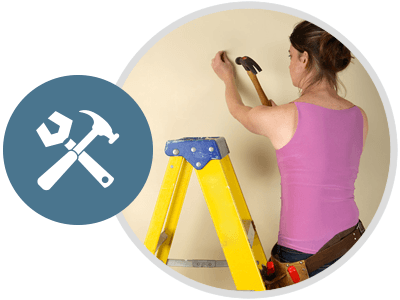 VA Home Improvement Loan
Pull out as much as 100% of your home's value as cash to upgrade your home and increase its value even more.
If you own a home, you have a certain amount of equity in it, depending on how far along you are on your mortgage. The VA Home Improvement Loan is a refinance option that allows you to get cash up to the amount of equity you have to improve your home and make it more valuable. This can be a great option whether you're planning on living in the home for the foreseeable future or planning on selling it soon.
Most homes aren't perfect, and as your family grows, it's likely that even if your home was perfect before, it might start to be less than what you need. It could be that you're looking to put in another bathroom, a spare bedroom, or build a patio. Perhaps you're interested in saving more money in the long run by making your home more energy efficient. The VA home improvement loan allows you to access up to 100% of your home's value to cover improvement projects.
VA home improvement loans have specific requirements. On any VA home improvement loan several factors will be taken into account to determine your eligibility. These factors are intended to achieve several purposes: determine how large of a loan you could be approved for, and your ability to pay off the loan over time.
Appraised Value
Getting a home improvement loan is likely to directly affect the value of your home because of the improvements you use the loan for. As such, an official VA appraisal needs to be conducted on the property before the loan can be approved. The initial appraisal is also very important because the VA limit on the size of your home improvement loan is up to 100% of the value of your home. In order to know the value of the home, an official VA appraisal must take place on the property. Work with one of our VA loan specialists to estimate the value of your home before the appraisal and discuss the most beneficial VA home improvement loan option.
Income & Employment
Much like a new purchase loan, the home improvement loan requires verification of your income and employment. Since a home improvement loan can potentially be as large as the mortgage on your home, making absolute sure that you'll be able to afford the additional monthly payment is one of the lender's highest priorities – and it should be one of yours too. The following will need to be provided to the lender:
Two most recent months pay stubs for all borrowers
Two most recent year's W2 forms (or tax returns) for all borrowers
Two year employment history and employer information including dates of employment, addresses, phone numbers & contact person
Proof of outside sources of income including rental property income, personal investments, settlements, child support, etc.
Assets & Liabilities
When working towards getting approved for a VA home improvement loan, the veteran will need to disclose all of their assets and debts (liabilities) to give the lender an accurate picture of how well the veteran could afford a refinance. Assets are different from income and can give the lender a good view of how financially savvy the borrower is as well as what the borrower's net worth is. Expect to be asked for these documents:
Two most recent months statements from all your accounts including checking, savings, investment, and retirement accounts(IRA, 401k, 403b, Pension).
A credit report speaks to creditworthiness and helps a loan underwriter determine a veteran's monthly debt obligations.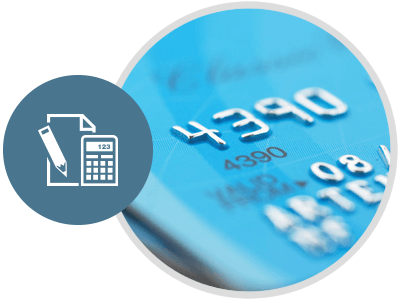 VA Debt Consolidation Loan
Lower your monthly debt payments by using your home equity to pay off higher-interest debt, such as credit cards, after a VA appraisal.
Imagine if your credit card only had a 4% interest rate. Considering that most credit card interest rates sit somewhere around 20%, getting one with only 4% seems pretty unlikely. Thankfully, for any veteran or active service member that's eligible for the VA loan program, you might be able to start making your credit card payments with the same interest rate as your mortgage. How does this work? Through the VA Debt Consolidation Loan.
The VA Debt Consolidation Loan is a type of refinance that the VA offers where the borrower can essentially get cash-out to pay off other types of debt – particularly credit card debt.
This allows the borrower to pay off their debts, maintain good credit, and ease their financial burden – often without dramatically affecting their monthly mortgage payment. The amount of cash you can get out of the VA Debt Consolidation Loan depends primarily on the value of your home and much of it you've paid off so far.
To get approved for a debt-consolidating loan, there are three things that need to be considered: your income, your credit, and the current value of your home. To establish your income and credit, you'll be expected to provide verification of your income and get a credit report. To determine the current value of your home, another official VA appraisal of the home will need to take place. As long as those requirements are fulfilled, you should be able to use cash out from your home to pay off other debt.
Combining multiple loans into one home loan has numerous benefits including:
Lower overall monthly payments
Lower overall interest rates because you can get rid of high-interest credit card payments, car loans, and even second mortgages
The interest on home loans is tax deductible, while interest on credit cards and car loans is not.
Simplification from only having one monthly payment to one lender instead of multiple payments to various companies
If you are in a position where you could benefit from consolidating higher-interest debt into your mortgage, this option can take much of the financial burden off your shoulders and help make your payments far more manageable. Contact us today to learn more about the program.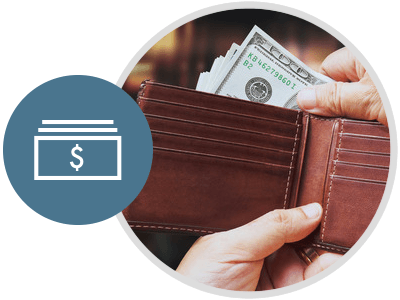 VA Cash Out Refinance Loan
Put the untapped equity in your home to work. Use it to pay off a major purchase, go back to college, increase your savings, and more.
If you've been dutifully making your mortgage payment for the last 10 years or more, you've got a considerable amount of equity built up in your home. The cash-out refinance option can take some of that equity and turn it into cash in your hands, allowing you to pay off a car, make a major expense, support a child at college, or just put it into savings for a rainy day.
Many veterans have untapped equity in their home. Equity is calculated by taking the current value of your home and subtracting the amount you still owe on it. For example, without including other factors, if you bought a home for $200,000, and have paid down $50,000 of the principal, you would have $50,000 equity in your home. The changing value of real estate in general and your home in particular makes a big difference, which is why knowing the current value of your home plays an integral role in determining equity. Veterans can use the untapped equity in their homes to get a VA Cash Out refinance, which allows them to pay off other bills, lower their overall monthly expenses, or even establish a larger cash reserve.
The VA Cash Out loan programs have several factors that will determine your eligibility. Use the link below to be taken through the process, or read below for more information.
No Obligation Analysis
Appraised Value
The first step is to get an official VA appraisal, which must be ordered directly by the VA. A VA licensed appraiser will come out and inspect the home and determine a fair market value. One of our trained VA Loan Specialists can help you estimate the value of your home before the appraisal is ordered, which can save you both time and money and help you prepare in advance for your Cash Out Refinance. The appraisal's determination of the value of the home provides the starting point for determining how much equity the borrower has in the home.
Income & Employment
Getting approved for a Cash Out Refinance for either improving your home or consolidating other debt requires new verification of your current income and employment status. Much like a new purchase loan, there are a number of documents that you need to provide for suitable verification. You will need to provide the following:
Two most recent months pay stubs for all borrowers
Two most recent year's W2 forms (or tax returns) for all borrowers
Two year employment history and employer information including dates of employment, addresses, phone numbers & contact person
Proof of outside sources of income including rental property income, personal investments, settlements, child support, etc.
Assets & Liabilities
When an application for a Cash Out Refinance is being considered, information on the borrower's assets and liabilities is a valuable tool to help determine how affordable the refinance will be. If you apply for a Cash Out Refinance, you will be expected to provide the following documents:
Two most recent months statements from all your accounts including checking, savings, investment, and retirement accounts (IRA, 401k, 403b, Pension).
A credit report speaks to credit worthiness and helps a loan underwriter determine a veteran's monthly debt obligations.
Don't Need Much?
If your need for cash doesn't go beyond the amount that could be provided by two months deferred mortgage payments and an escrow refund. The VA streamline refinance loan is fast, easy and can provide veterans with thousands in cash without requiring an appraisal or income/asset calculations.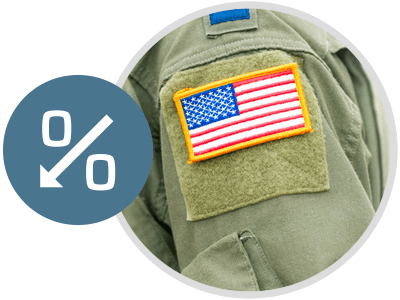 VA Refinance Relief – Veteran's Benefits Improvement Act of 2008
Get out of a subprime mortgage that has bad terms and a high-interest rate, even if you have little or no equity. You might be eligible for lower VA mortgage rates when you refinance.
The Veteran's Benefits Improvement Act of 2008 gives veterans with conventional loans a second chance to refinance into VA loans. Specifically, this act is for veterans who have sub-prime mortgages with unfavorable terms and/or higher interest rates. The act allows those veterans to refinance into the VA loan program. That's not even the best part; even veterans who are "upside-down" in their current mortgage can refinance into the VA loan program. In other words, borrowers with little or no equity in their homes can refinance. This act can bring much needed relief to a veteran borrower that finds him or herself in a bad situation due to the recession.
The President Makes It Law to Help Struggling Veteran and Military Home Owners
Washington, DC, November 13, 2008 --(PR.com)-- Congress and the President have both acted in a bold move to help assist thousands of deserving military home owners to prevent foreclosure and make the cost of home ownership easier to bear. In October on this year (2008) President Bush signed into law, the Veterans Benefits Improvement Act of 2008. This new law brings many necessary and earned benefits to our nation's military and veteran home owners. As most of the country is now aware, we find ourselves sliding deeper and deeper into a recession. It is the hope of all Americans that our great country find its way out of this turmoil as soon as possible, however until that time occurs, we cannot deny that owning and keeping our homes seems more and more difficult.
Preventing Foreclosure and lightening the burden of mortgage payments
Veterans and military home owners across the nation are faced with job losses, increased gasoline prices, increased food costs and the emotional stress that comes with all of these recessionary items. At times like this one of the places we find the most solace is in the comfort of our own homes. Lately however, more and more of us worry if we will be able to afford next month's mortgage payment. For most home owners in this country, the ability to lower their payments via a mortgage refinance is pretty much impossible in today's mortgage world. THIS IS NOT TRUE for our nation's veterans and military home owners thanks to the ever expanding VA loan programs being offered by VA approved lenders. This new law now makes it possible once again for veterans to harness the saving power of the VA HYBRID LOAN. The VA has a loan program that allows veterans the opportunity to take advantage of lower than normal interest rates for a period of 3 or 5 years. This is the VA Hybrid Arm and is not to be confused or feared as the sub-prime Arms or other conventional Arms of yesteryear. "It is amazing how many veterans are initially afraid to even speak about the VA Hybrid Loan at the beginning, and then once I help them see through the media spin and realize how much this amazing program can help them in the short and long term, they [veteran home owner] are chomping at the bit to get the loan done." Says Ryan Johnson of Low Va Rates. LowVARates.com, a website designed and dedicated to assist and educate veteran home owners, has been educating veterans on this VA Hybrid loan since earlier this year. Unfortunately, just as veterans were catching on, the government's authority to offer such loans expired and the program was no longer available until now. Veterans and active military, do yourselves a favor and at least explore the new options available to you through the Veterans Benefits Improvement Act. As this great nation, which you have served so diligently continues to face economic uncertainty, one this remains stable, and that is the va home loan program and your benefits. As owning a home and making mortgage payments becomes more and more difficult, consult with an approved VA lender and make sure you are aware of all that you are entitled to.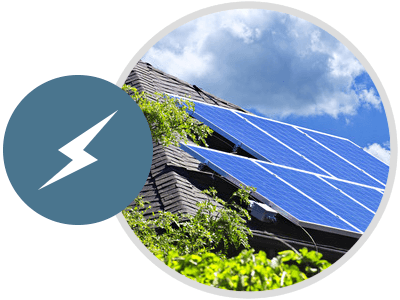 VA Energy Efficiency Mortgage (EEM)
Receive up to $6,000 to upgrade your home to be "greener" and to save money on your utility payments.
Energy efficiency is something that can save a lot of money in the long run. Everything from solar panels to replacing windows to better insulation can lower your monthly utility bills and help your home be more warm in the winter and cool in the summer. The VA EEM can get a veteran up to $6,000 to go towards energy-efficient upgrades in their home.
The VA Energy Efficiency Mortgage (EEM) is available to be added onto most new purchase loans and refinances. The purpose of the EEM is to allow the veteran and his or her family to improve their home in such a way as to make it 'green', with the emphasis on saving money on utilities payments. The VA allows for up to an additional $6,000 to be borrowed above the mortgage amount for the purpose of energy efficient upgrades. Think of your mortgage as the cheeseburger, and the EEM as the fries.
The EEM can be used for a variety of upgrades for your home. Nearly all of the upgrades have to do with keeping your home warm in the winter and cool in the summer, though in most cases, solar panels for the purpose of providing power to the home can be included as well. Below is a list of the most common and most cost-effective upgrades likely to give you the most bang for your buck.
Examples include:
Solar heating/cooling systems for air and water
Weather-stripping
Furnace efficiency modifications
Clock thermostats
New or additional ceiling, attic, wall and floor insulation
Storm windows and/or doors, including thermal windows and/or doors
Heat pumps
Vapor barriers.
There is one caveat to the EEM loan. The usage of the EEM loan must result in net savings each month. In order to clarify, let's say you borrowed the full $6,000 to make improvements and that caused your monthly mortgage payment to be $30 higher. Those improvements would have to result in more than $30/month in energy savings. The net effect of your improvements needs to be established before the loan can be approved. This can be done via your local utility company or a third party report that shows roughly accurate utility savings. The preferred method will vary lender to lender. This restriction on the EEM is hardly a restriction since the purpose of making a home more energy efficient is usually to save money anyway. This protects the borrower from making unwise decisions in upgrading their home.