Virginia Veteran Benefits
If you're a current military servicemember or veteran in the Commonwealth of Virginia, you may have benefits available to you because of your military service. The state offers support and a variety of advantages to those who have served, from employment help to recreation benefits.
VA Home Loans
The Old Dominion State has numerous bases, reflecting a strong military history. Check out the graphic below for the locations of these bases: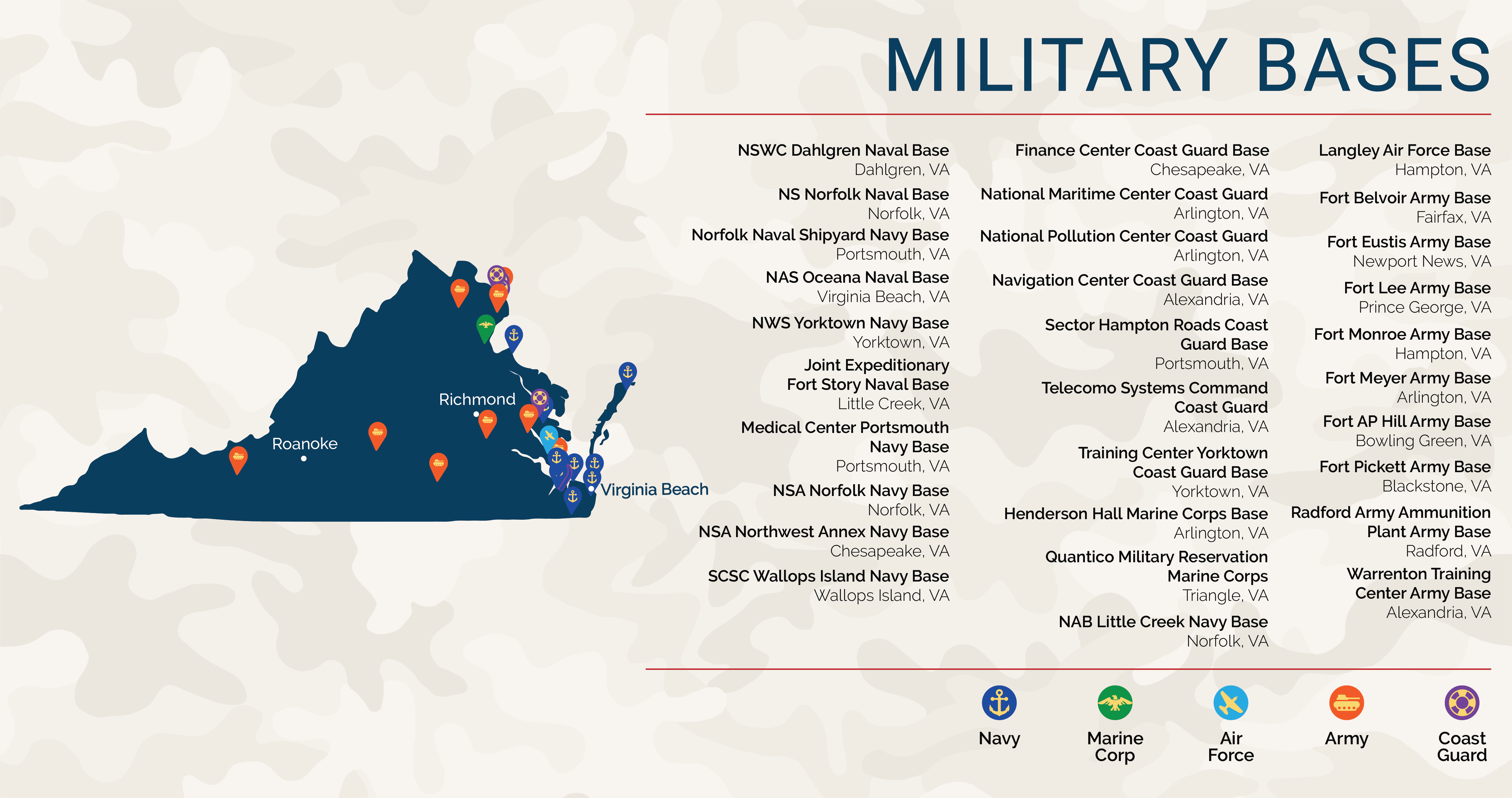 If you're on active duty in the state, you might like the area enough to have considered buying a property near a base. Veterans living in Virginia may have also thought about using their military benefits to purchase a home or refinance their current mortgage into more favorable rates or terms.
VA home loans in Virginia could allow you to finance or refinance a home even if you think you may not have saved enough or you won't qualify.
Although the Department of Veterans Affairs (VA) doesn't issue VA home loans itself, it does guarantee a certain amount on the loan and provides guidelines for VA-approved lenders. This ensures that the VA loan remains a benefit for those who have served the country.
Some of the advantages of a VA loan include:
No-money-down financing on a primary residence
No need for private mortgage insurance (PMI) payments
Low average interest rates
The ability to qualify without a great credit score

Virginia Residents Save
$198
/mth
Savings based on 2015 active loan data
24
Lunches
*Based on an average lunch price of $8.08
How to Get a VA Home Loan in Virginia
To find a VA mortgage in the state, it's a good idea to first look up VA-approved lenders who have specialized experience helping military personnel and veterans with Virginia VA home loans. Because of the steps and details involved with VA loans, you may not get the best service from a lender who only dabbles in them.
Additionally, although the VA backs VA loans, VA-approved lenders can still vary in their rates, terms, and other loan details. That's why we strongly recommend that you get quotes from at least two or three lenders before making a decision.
We also recommend that one of the lenders you speak with is us at Low VA Rates. Our company was founded with a decision to focus on the VA loan so we could serve veterans. Since then, we've gained extensive experience serving those who've served our country.
Our experts can answer your questions, check your eligibility, help you understand the process, and get you a competitive quote.
We're so confident about our low rates, if you find an annual percentage rate (APR) from one of our competitors that is lower than our offer, we'll either match their offer or give you $250. Give us a call at 866-569-8272 to get started.
Veteran Housing Benefits
Veterans Care Centers
The Virginia Department of Veterans Services oversees Veterans Care Centers, which provide long-term nursing care for Virginia's veterans, along with other health, wellness, and recreation services.
Facilities are located in Richmond and Roanoke, with two more centers opening elsewhere in the state in 2021.
To be eligible, you must be:
A veteran of the US military with an honorable discharge
A qualified Virginia resident
Learn more about the centers, admission requirements, and how to apply by visiting the web page and clicking on the different locations.
Real Estate Tax Exemption
You may qualify for a property tax exemption on your primary residence. To be eligible, you must be one of the following:
A veteran with a 100% permanent, total, service-related disability who is or was alive Jan 1, 2011 or later
The surviving, unremarried spouse of a veteran who was eligible because of disability or was killed in action (or died of wounds)
A veteran who has a disability rating lower than 100%, but is rated as having a "permanent and total" disability and is VA-rated at 100% because of being permanently unemployable
You can contact your county tax assessor for more information about tax exemptions.
Veteran Education & Employment Benefits
Education Benefits
As a reward for the service of our veterans, the Commonwealth of Virginia has multiple benefits veterans and servicemembers can take advantage of to help them move toward their educational goals.
Virginia Military Survivors & Dependents Education Program
The Virginia Military Survivors and Dependents Education Program (VMSDEP) provides a tuition waiver for up to four academic years to the children (ages 16 to 29) and spouses of certain servicemembers. Qualified students can use this benefit at Virginia postsecondary institutions.
The student's veteran family member must have been in the US Armed Forces, the Guard, or the Reserves and have a discharge that is not dishonorable. They also must meet certain residency requirements and be or have been one of the following:
A veteran with a 90% to 100% service-related disability that is permanent
MIA or a POW
Killed in action
Eligible students may also receive a stipend, depending on factors such as the number of students participating in the program.
You can contact the Virginia Department of Veterans Services of follow the steps on the web page to apply for this program.
Using Military Service for College Credit
Military personnel gain useful training in the military, much of which can be applied to postsecondary education and training in the civilian world. Virginia's Credits2Careers helps veterans use their military service as college credits and can offer support as you create and start on the pathway to your desired career.
Using Education Benefits in Virginia
Virginia's State Approving Agency works to make sure there are high-quality education programs available in Virginia where you can use your military benefits. The Agency oversees programs at:
Colleges
Universities
Apprenticeships and on-the-job trainings
Correspondence programs
Flight programs
To see a list of Virginia institutions that are approved, check out the WEAMS (Web Enabled Approval Management System) search engine and follow these steps:
Select the institution type you'd like to search for or type in a specific institution
Click on "VA" on or below the US map
Look through the list of organizations (over multiple pages) and click on any name for the institution's contact information
Contact an institution's certifying official or officials with any questions. Or, if you're not seeing the institution you'd like to, contact the State Approving Agency to see whether they can be approved or are in the approval process.
Training and Education Alliance
The Training and Education Alliance (TEA) focuses on helping universities and individuals get training to help veteran students. Interested institutions or individuals can take the Ambassador Pledge and attend the alliance's trainings on veteran culture and educational needs.
Employment Benefits
It's not always easy searching for and finding a good career, and spending time in military service can make things even more challenging. That's why Virginia's veterans should explore the state's resources for helping veterans navigate the world of civilian employment.
Military Medics and Corpsmen (MMAC) Program
The Military Medics and Corpsmen (MMAC) Program allows you to use your military training to help meet qualifications for education and employment in the civilian world. There are three paths you can take to use your military medical training in this way:
MMAC Qualified – If you worked in the military in certain medical capacities sometime within the last 12 months, you may be able to begin work in civilian healthcare immediately, while also working on your civilian professional credential.
Non-Clinical Roles – MMAC can help you find a healthcare role in non-clinical positions like engineering, IT, human resources, and other specialties besides patient care.
Leadership – You may be able to use your military leadership skills to lead a team, facility, or department in the healthcare industry.
You can apply for this program at the MMAC application portal.
Virginia Employment Commission (VEC)
You can go to an office of the Virginia Employment Commission (VEC) for employment support. At a VEC location, you can work with a local Veterans Employment Representative (LVER) or a Disabled Veterans Outreach Program (DVOP) staff member. If you're an eligible veteran or transitioning servicemember, they can offer you:
Job trainings
Job referrals
Job readiness assessments
Job search assistance
Career counseling and planning
Case management
You can also sign up and start searching for jobs on their website.
Veteran's Preference in Civil Service Job Applications
If you're a veteran and you apply for a job with a Virginia government agency, the agency is required to give you a hiring preference. The preference is there to improve your chances of being hired, but you'll still need to meet the minimum initial requirements before the preference is applied.
Veterans who pass an initial employment screening test should receive an increase to their score of:
5% for veterans, or
10% for veterans with service-related disabilities
Agencies that don't require a test are still required to treat your veteran/disabled veteran status as a preferred qualification for the job, as long as you pass the initial screening of their hiring process.
You can visit Virginia's career opportunities page to search for Virginia government jobs. And if you feel you weren't give the preference you've earned, you can contact VDVS to file a claim.
Virginia Transition Assistance Program (VTAP)
Going from military service to civilian life is a drastic change that can be difficult for many veterans and their spouses to navigate. The Virginia Transition Assistance Program (VTAP) works to help veterans and military spouses successfully make this transition, supporting them in their pursuit of civilian work, education, entrepreneurship, and other activities.
The program can connect you with a variety of service providers, workshops, Virginia Values Veterans (V3) employers, and other useful programs and training.
Explore the program's web page for more information. You can also sign up for the VTAP e-newsletter in order to get job opportunity alerts and other relevant news.
Service Disabled Veteran-Owned Small Business (SDVOSB) Designation
The SDVOSB designation tells your potential customers that you're part of a select group of small businesses. To be eligible, your business must:
Be 51% or more owned by at least one veteran with a service-connected disability
Be controlled by at least one service-disabled veteran
Be within certain employee and income limits
Visit Virginia's SDVOSB web page to get an application and see the current requirements for this designation, along with the contact information you'll need.
Other Veteran Benefits
Virginia Veteran and Family Support Program (VVFS)
The Virginia Veteran and Family Support Program (VVFS) can help you and your family members connect to supportive services and benefits during military-related, mental health, or injury-caused challenges. Other services offered include mentoring, support groups, caregiver education, and others.
To be eligible for services, you must be one of the following:
A veteran and resident of Virginia with any discharge status
A member of the Armed Forces Reserves or Virginia National Guard not in active national service
A family member of an eligible servicemember or veteran
If you're eligible, there are a few ways you can access further information on the VVFS web page, including:
Click on a service type in the menu on the side of the page to see related resources
Click on the name of a region or an area of the map shown on the page to learn about available resources and contact information for the area
Sign up for the e-newsletter, which provides periodic information that's helpful to veterans
Contact the VDVS with any questions.
Tax Deductions, Benefits, and Exemptions
Certain servicemembers may be eligible for tax deductions, exemptions, or other benefits:
Military Personnel – If you're stationed in Virginia or elsewhere, you may qualify for a tax deduction based on your military basic pay. You must be serving extended active duty that has lasted for at least 90 days and be within certain pay limits to qualify for this benefit.
Virginia National Guard – You may be eligible for a tax exemption on part of your Guard salary or wages from your tax return, depending on the length of your service and when you served.
Combat Zone or Hazardous Duty Service – Pay from this service may be subtracted from your taxes, as long as it has not already been included in tax adjustments.
Additionally, if you are serving outside the US, you may qualify for an extension to your tax filing and payment due date.
Contact your county tax assessor for more details.
Veteran Indicator on Virginia Driver's License or Identification Card
In Virginia, eligible veterans can request the word "Veteran" to be put on the front of a Virginia driver's license or ID card. To qualify, you must:
Be an honorably discharged veteran of the US military
Be a resident of Virginia
Have a Virginia ID card, driver's license, commercial driver's license, or learner's permit
Show documentation of your military service and discharge status
Apply by following the directions on the Veteran Indicator website.
Hunting and Fishing Licenses for Veterans with Disabilities
Disabled veterans in Virginia may qualify for one of several types of discounted hunting and fishing licenses. For example, if you have a service-related disability that is permanent and total, you may be able to get a lifetime hunting, fishing, and/or trapping license.
Some of the other licenses available are:
Freshwater fishing and hunting license for non-resident disabled veterans
Authorization for arrowgun hunting for special archery season for people with disabilities
Saltwater fishing license for non-residents with disabilities
To find out what you might be eligible for, visit the Virginia Department of Game and Inland Fisheries (VDGIF) website and look in the "License Forms" section, clicking on any application for people with disabilities or veterans with disabilities. You can also visit the VDGIF headquarters office to apply.
Veteran Disability Passports (State Parks Pass)
With a Veteran Disability Passport, you'll enjoy:
Free admission and parking at Virginia state parks; anyone needed to assist you can also be admitted for free
Free horse trailer parking and boat launch
Discounts on swimming, shelters, camping, and equipment rental in state parks
To qualify, you must have a VA-rated 100% service-related disability. You can download the application form from the Annual Passes web page (located at the bottom of the page).
Virginia Veterans Cemeteries
Veterans Cemeteries in Virginia provide interment services for veterans (including certain members of the Guard and Reserve), their spouses and surviving spouses, and their unmarried minor children. There's no cost for veterans to be interred or for the family to use a cemetery shelter or chapel for services. However, there is a cost for the interment of spouses or dependents.
The cemeteries are located in Dublin, Amelia, and Suffolk. Visit each area's web page for information on pre-application, events at the location, etc.
Visit the Information web page for more information on eligibility, costs, decorations, and other details.
Veteran Benefits Assistance
If you'd like to apply for a certain benefit or learn more about what you're eligible for, you can contact the Virginia Department of Veterans Services (DVS). Staff members there can give you the latest benefits information and help you apply for benefits correctly. Their assistance is free.
You can visit the Benefits web page to find a list of all of the DVS offices. Click on the one nearest to you to find their contact information, schedule, service representative(s), and other information.
Women Veterans
If you're a woman veteran, you can visit the Virginia Women Veterans web page for links to articles, resources, and service organizations that can be useful. You can also find information about upcoming events and get contact information for the Women Veterans Program.
About Low VA Rates
We at Low VA Rates offer expert information on how to get a VA home loan in Virginia. We are devoted to and founded on the VA loan, and we use our passion to help veterans get great VA mortgages and refinances every day.
If you want a quote on VA home loans in Virginia, please contact Low VA Rates at 866-569-8272 to talk to an experienced loan officer (who may even be a veteran as well). You can also go through our simple online quote system to verify your eligibility for Virginia VA home loans.