Nebraska Veteran Benefits
Whether you're a veteran or a servicemember in Nebraska, the Cornhusker State can help you with housing, employment, recreation, education, and many other military benefits. You can get help with your benefits from staff members at the Nebraska Department of Veterans' Affairs.
Nebraska Residents Save
$130
/mth
Savings based on 2015 active loan data
48
Gallons of gas
*Price-per-gallon based on CNN Money
16
Lunches
*Based on an average lunch price of $8.08
Veteran Home Loans
If you're stationed in Nebraska with the US Armed Forces, buying your own home with a VA loan can give you greater convenience and flexibility than living on base, especially if you purchase a home near your duty station.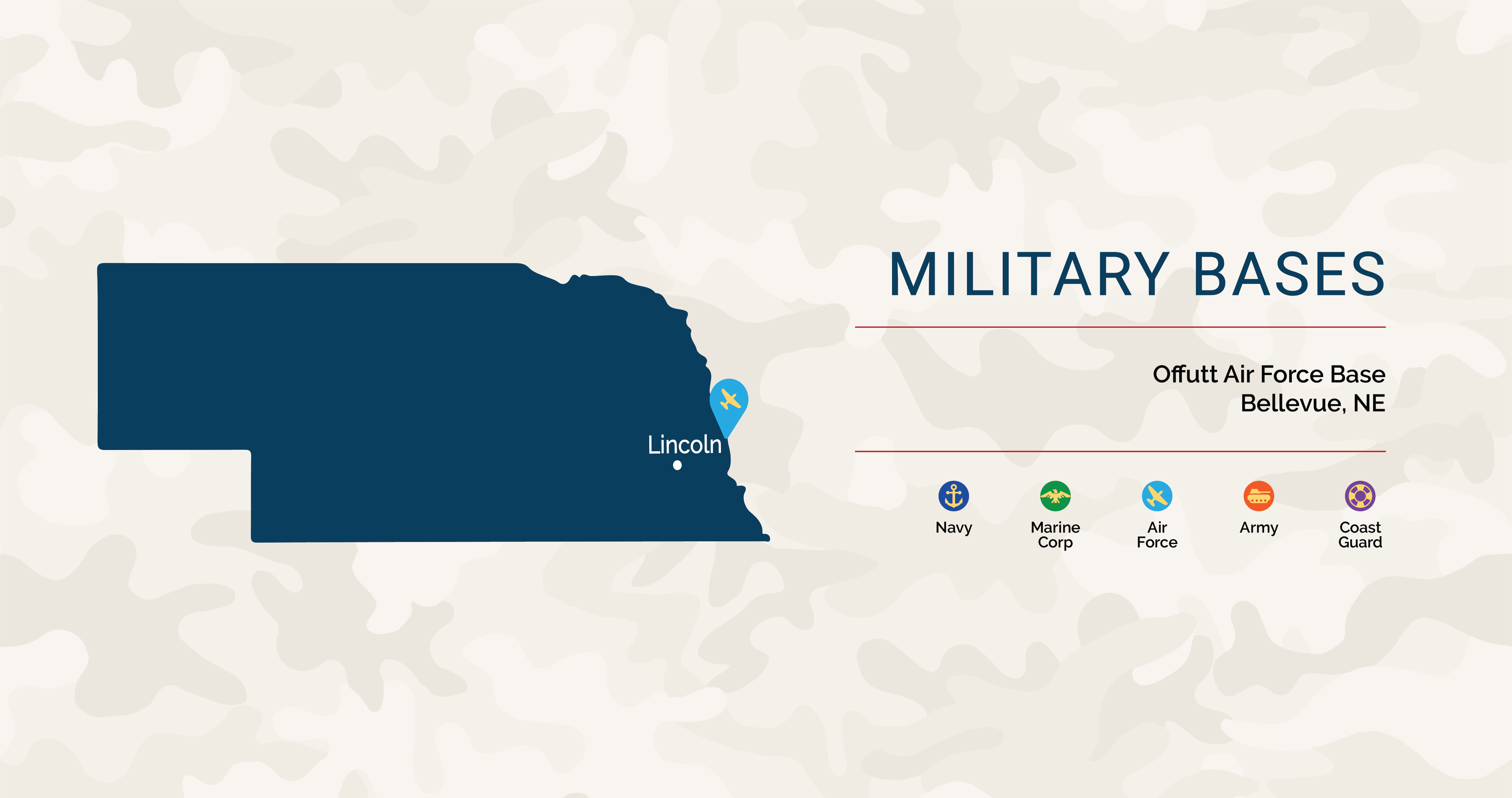 VA loans in Nebraska can make a home purchase much easier and faster. A VA loan is a type of mortgage that only servicemembers and veterans can use. They're convenient because they:
Don't require a down payment
Don't require a particular minimum credit score
Offer lower interest rates than many other mortgage types
Don't require private mortgage insurance (PMI)
Private lenders in your area and nationwide offer VA loans using the VA's guarantee and rules. You can get quotes from a few different lenders and compare their interest rates, terms, and costs to find the one that's right for you.
Since you'll be paying off your VA loan for several years, it's important to have a lender who understands what you need so they can maximize your loan. At Low VA Rates, we have focused on serving veterans and servicemembers for many years, making us VA loan experts who will keep you in mind throughout the entire process.
Veteran Housing Benefits
Nebraska Homestead Exemption
You may be able to get a 100% exemption of your homestead property tax in Nebraska. To be eligible, you'll need to meet one of the following conditions:
Be a veteran who gets VA compensation for a service-related 100% disability
Be a wartime veteran with a complete disability caused by an illness or injury that was not service-related
Be a paraplegic veteran or multiple amputee with a home that you acquired with VA help
Be an unremarried surviving spouse of a veteran who died under certain conditions
Be a surviving spouse who remarried after the age of 57
A new application form for this exemption comes out each year. The current application form is available online, on the Nebraska Property Assessment Division's website.
Nebraska Veterans Homes
At the Nebraska veterans homes, you can receive medical care with others who have a shared military background. The homes provide intermediate and skilled nursing care, as well as domiciliary care. To be eligible for admission, you need to be one of the following:
A Nebraska veteran with active duty experience in the US Armed Forces
A veteran's spouse, widow or widower, or Gold Star parent, under certain conditions
To apply for admission, you can contact any of the four veterans homes in Nebraska:
You can also contact your county's Veterans Service Officer for more information, or you can also apply through a veterans organization such as the American Legion, Disabled American Veterans, and others.
Veteran Employment & Education Benefits
Education Benefits
Both you and your dependents can receive a variety of education benefits in Nebraska. Tuition waivers and credits can make obtaining a higher education more affordable, while an honorary diploma recognizes the sacrifices you've made.
State Approving Agency
In Nebraska, the Private Postsecondary Career Schools and Veterans Education (PPCS-VE) serves as the state's approving agency (SAA). They are responsible for managing and approving the in-state educational programs where you can use your GI Bill.
To find the currently approved programs, you will need to:
Visit the VA's Web Enabled Approval Management System (WEAMS)
Click on "NE" on the map, or in the links below the map
Select an institution to learn more about it
If you have any specific questions about an institution or their approved program(s), you can use the contact information provided in their WEAMS profile. If you are interested in attending an institution that isn't listed in the WEAMS database, please contact the PPCS-VE.
Honorary High School Diploma through Operation Recognition
Some veterans missed their chance to get their high school diploma because they left their Nebraska high school to serve in the military. If that happened to you, you can qualify to get a diploma from Nebraska now. To be eligible, you must:
Be a Nebraska veteran
Have an honorable discharge
Have served in either World War II or the Korean War
You can also qualify even if you live in another state but used to be a Nebraska resident.
To apply for the diploma, either you or your legal you can fill out the application and send it to the address on the form. If the veteran is deceased or otherwise unable to submit their own application, it can be filled out and submitted by someone else, on their behalf.
Reservist Tuition Credit Program
If you're a member of the Nebraska Reserves, you could qualify to pay only half of the tuition to Nebraska community colleges, state colleges, and university campuses. This benefit is available for a limited number of new applicants per year. To be eligible, you must:
Be a resident of Nebraska
Be enlisted in a Nebraska-based Active Selected Reserve Unit
Have committed to at least three years of service with the Reserves
Still have at least two years left on your enlistment when the school term starts
Not have less than 10 years in the US Armed Forces
Be pursuing a certificate or degree
You can see the current list of participating institutions on the Reservist Tuition Credit Program web page. To apply for the program, you can go to the Instructions page and follow the steps.
Waiver of Tuition Program for Eligible Dependents
Dependents of certain Nebraska veterans are eligible to pay no tuition when attending certain Nebraska colleges and universities. This benefit doesn't cover non-tuition expenses. A student can earn both of the following:
One certificate, degree, or diploma from a Nebraska community college
One bachelor's degree from a state college or university
The best way to take advantage of the program is by first earning your degree or certificate from one of the community colleges before going on to complete a bachelor's degree.
This tuition waiver is for students who are or were dependents of a veteran who meets one of these conditions:
Have a complete and permanent service-related disability that is rated by the VA
Died because of a service-related disability
Died after discharge because of an illness or injury suffered while in the military
Received classification as MIA or a POW during an armed conflict
In addition, the student must be the spouse, surviving spouse, child, adopted child, or step-child of the above eligible veteran. Other conditions for the student's eligibility include:
Being a resident of Nebraska
Enrollment in a participating school
Meeting the minimum requirements to qualify for in-state tuition
The list of participating schools is available online. You can also see the list of school representatives, including financial aid specialists, through the school directory document.
To apply for this tuition waiver, you'll need to turn in the application with enough time for it to be processed before the school term starts. Send the application to the address listed in the form's instructions. Just as a reminder, you will need to already be enrolled at a participating school.
Employment Benefits
Finding work after leaving the service can feel daunting and overwhelming. But it doesn't have to be that way. The state of Nebraska offers a variety of resources to help veterans find employment that utilizes their skills and experience.
Nebraska Resources for Finding Work
Nebraska's Department of Labor offers a variety of services for veterans. These include:
Help searching for jobs
Referrals to job positions
Job placements
Help preparing a resume and cover letter
Labor market data
Career counseling
Workshops
Referrals to trainings
Referrals to other support services, including housing, transportation, financial, and more
Use of computers, fax machines, phones, and copiers
Help overcoming barriers to employment
Walking you through online applications
If you're a veteran or the eligible spouse of a veteran, staff members will prioritize serving you before non-veterans. This applies to if you're a:
Veteran who served on active duty and had an honorable discharge
Spouse of a veteran who has a complete service-related disability, who died from a service-related disability, or who died while still having that disability
You can sign up for a free NEworks account, which will help you organize your job search, find the kind of work you need, and apply for jobs. Staff members can even help you sign up.
You can see other available employment resources at Nebraska's Veterans Employment page.
Veterans Hiring Preference
You may qualify for a hiring preference when you apply for a Nebraska state job. This preference means that you'll have 5% added to your passing score on a hiring examination, plus an additional 5% added if you're a disabled veteran.
You can qualify for this preference if you're:
A veteran
The spouse of a veteran with a 100% disability rating
The spouse of a servicemember who is currently on active duty or who was discharged in the last 180 days
You can receive this preference by requesting it when you apply for a state job, as long as you provide:
A copy of a discharge document, such as a DD-214 form
Proof of a service-related disability, if applicable
Proof of marriage, if a spouse is claiming this preference
If you think you should have received this veterans preference but didn't, you can submit a written appeal the decision after the job you applied to has gone to someone else. Instructions for the appeal are available on the Veterans Preference page.
Hiring Preference in the Private Sector
In addition to preference for government jobs, veterans in Nebraska may also receive preference from private employers.
Though this preference is not a legal requirement and is given by employers on a voluntary basis, in 2015 Nebraska enacted a law that protects employers from fair employment violations if they choose to offer it.
Private employers who elect to implement their own veterans preference policies can register with the government of Nebraska and be added to the Voluntary Veterans Preference Registry. You can check this list during your job search to know what companies may give you preference when you apply for a job.
Troops to Energy Jobs
Thought it's a national program, the Troops to Energy Jobs organization has a list of available positions in Nebraska.
If you're interested in working in the energy industry, you can use their filters to find jobs relevant to your military title.
If you find a job that appeals to you, you can click on it to learn more as well as apply online through the site.
Other Veteran Benefits
Nebraska offers other veteran benefits, including tax advantages, a financial aid program, veterans' driver's licenses and license plates, hunting and fishing permits, and more.
Tax Exclusion of Military Retirement Pay
Nebraska allows you to exclude a portion of your military retirement pay from your Nebraska taxable income.
The law says you have to choose which type of exclusion you want to take, and that decision is locked in once you make it. You have to make the choice within two years of your military retirement, no matter when you'll start receiving benefits. There are two types of exclusion:
#1: You can have 40% of your retirement benefits excluded from your income for each of seven years in a row, beginning in the year you make the choice
#2: You can have 15% of your retirement benefits excluded from your income every year for the rest of your life, beginning when you turn 67
You can make this election using form 1040N-MIL, filing it with the Nebraska Department of Revenue. Instructions are on the form itself.
Nebraska Veterans Aid Fund (NVA)
The Nebraska Veterans Aid Fund (NVA) helps veterans and their family members get through emergency money shortages. To qualify, the veteran must:
Have active duty experience with the US Armed Forces (not including active duty for training)
Have an honorable discharge or a discharge or separation of general under honorable conditions OR have died while serving in the military or because of serving
Have been a US citizen when he or she joined the US military or served with a US ally during certain periods
You can use NVA funds for:
Shelter
Clothing
Food
Fuel
Medical and surgical supplies
Funeral expenses
To apply for NVA funds, you can talk with your County Veterans Service Officer. He or she can help you fill out and turn in an application.
Veteran Designation on Driver's License and ID Card
You may be able to get a "VETERAN" designation on the front of your Nebraska driver's license or ID card. To qualify, you'll need to:
Turn in a Military & Veterans' Registry Application with the Nebraska Department of Veterans' Affairs (NDVA), either by going to the Registry Application web page or by calling the NDVA
Wait at least a day to make sure your driver record is updated with your registration
After you're registered, request that the veteran designation be placed on your renewal license or ID card OR request a replacement license or ID card (for a fee)
You can renew your license online or visit your nearest licensing office location.
Nebraska Military Honor License Plates
You can get Nebraska specialty military license plates. Examples of these license plates include:
United States Marine Corps
United States Navy
United States Coast Guard
United States Army Reserve
United States Air Force Reserve
Many others are available. To qualify to get a military license plate, you'll need:
To be a veteran or a current servicemember of the military service shown on the license plate
To have an honorable discharge/separation OR be on active duty
To be enrolled in the Nebraska Military & Veterans' Registry
If you have any questions, you can contact the Nebraska DMV. You can order specialty plates online or at your local DMV.
Hunting and Fishing Permits
You might qualify for a military hunting or fishing permit in Nebraska for a small fee or for free. There are three different kinds.
First, if you're a Nebraska resident veteran and are 64 or older, you can qualify for a Veteran's Annual Small Game Hunt/Fish/Fur Harvest Permit for a small fee. It comes with all state stamps. When you apply, you'll need to show a copy of your discharge document, a veteran designation on your driver's license or ID card, or an application form that is signed by your Veterans Service Officer. You can renew this once per year at a Nebraska Game and Parks office or online. You can send an application for it through the mail.
Second, you could get an Annual Small Game Hunt/Fish/Fur Harvest Permit and all state stamps if you're deployed somewhere outside of Nebraska or got back from deployment during the last 12 months. There's a small fee for the permit. You need to show your deployment paperwork when you apply in person, or you can send a copy of your paperwork with your application through the mail.
Third, you might qualify for a free Disabled Veteran's Lifetime Annual Small Game Hunt/Fish/Fur Harvest Permit with all state stamps. To be eligible, you'll need:
To be a legal Nebraska resident
To be rated as at least 50% disabled because of your military service or 100% disabled for non-service reasons and receiving a VA pension
An application form signed by a Veterans Service Officer (VSO)
You can apply in person at a Nebraska Game and Parks office, or you can fill out an application and send it through the mail (after having it signed by your VSO).
Nebraska Veterans Cemetery
Veterans and their eligible dependents can be interred for free at the Nebraska Veterans Cemetery at Alliance (NVCA). Staff there can serve you through:
Discussions about interment and headstone options
A Committal Shelter for graveside services
Opening and closing of graves
A memorial garden for the spreading of ashes
Headstones
Lobby shadow boxes
Reinterment from a different cemetery
Perpetual care at high standards
You can establish your eligibility in advance and leave certain wishes with the NVCA. Fill out the Eligibility Determination Request form and turn it in using the instructions on the related web page. You'll need to send in a copy of your discharge document and a copy of a marriage license (if it's for a spouse). This doesn't obligate you in any way. If you're eligible, you'll get a notice in the mail.
Veteran Benefits Assistance
You can get help with your military benefits from the Nebraska Veterans Service Office. Staff members can assist you (the veteran or servicemember), your spouse, and your dependents through these services:
Helping establish tentative eligibility for benefits
Advising you about your claims for benefits
Helping you correctly fill out and turn in applications for benefits
To get help, you can make an appointment with your nearest County Veterans Service Officer or talk to a State Service Officer at the VA Regional Office in Lincoln.
Women Veterans
Women veterans in Nebraska have resources to help them address their specific needs. Visit the American Veterans of Nebraska webpage to learn more about the Nebraska Women Veterans Coordinator, programs, centers, assault and trauma response, benefits, and other resources available to Nebraska's women who have served.
Military Records
For many benefits, you'll need your military records. If you joined the military from Nebraska or returned to Nebraska after your discharge, your military records might be stored at the Nebraska Department of Veterans' Affairs (NDVA).
You can check if your records are on file using an online search request. If you know you filed your records with your county, you can request them by contacting your County Veterans Service Officer.
About Low VA Rates
Low VA Rates has dedicated the time and talents of our employees (including some veterans) to serving veterans and servicemembers through VA loans. You can use VA loans in Nebraska to buy a home, refinance a mortgage, consolidate debt, and more.
Call Low VA Rates toll-free at 866-569-8272 to get a quote on Nebraska veteran loans from a knowledgeable loan officer. You can also go through our simple online application to get a quick determination. We'll be honored to serve you either way.