Idaho's Veteran Benefits
If you're a veteran of the US military living in Idaho, or a servicemember stationed here, we have a big list of Idaho-specific benefits that are available to you. Many of these benefits also apply to military families, as well.
Idaho Residents
Save
$127
/mth
Savings based on 2015 active loan data
15
Lunches
*Based on an average lunch price of $8.08
Veteran Home Loans
Buying your own home is one of the biggest purchases you'll make in your life. Idaho veteran loans can make it much easier, and often less expensive!
If you are stationed in Idaho with the US Air Force, you might even want to buy a home near the base.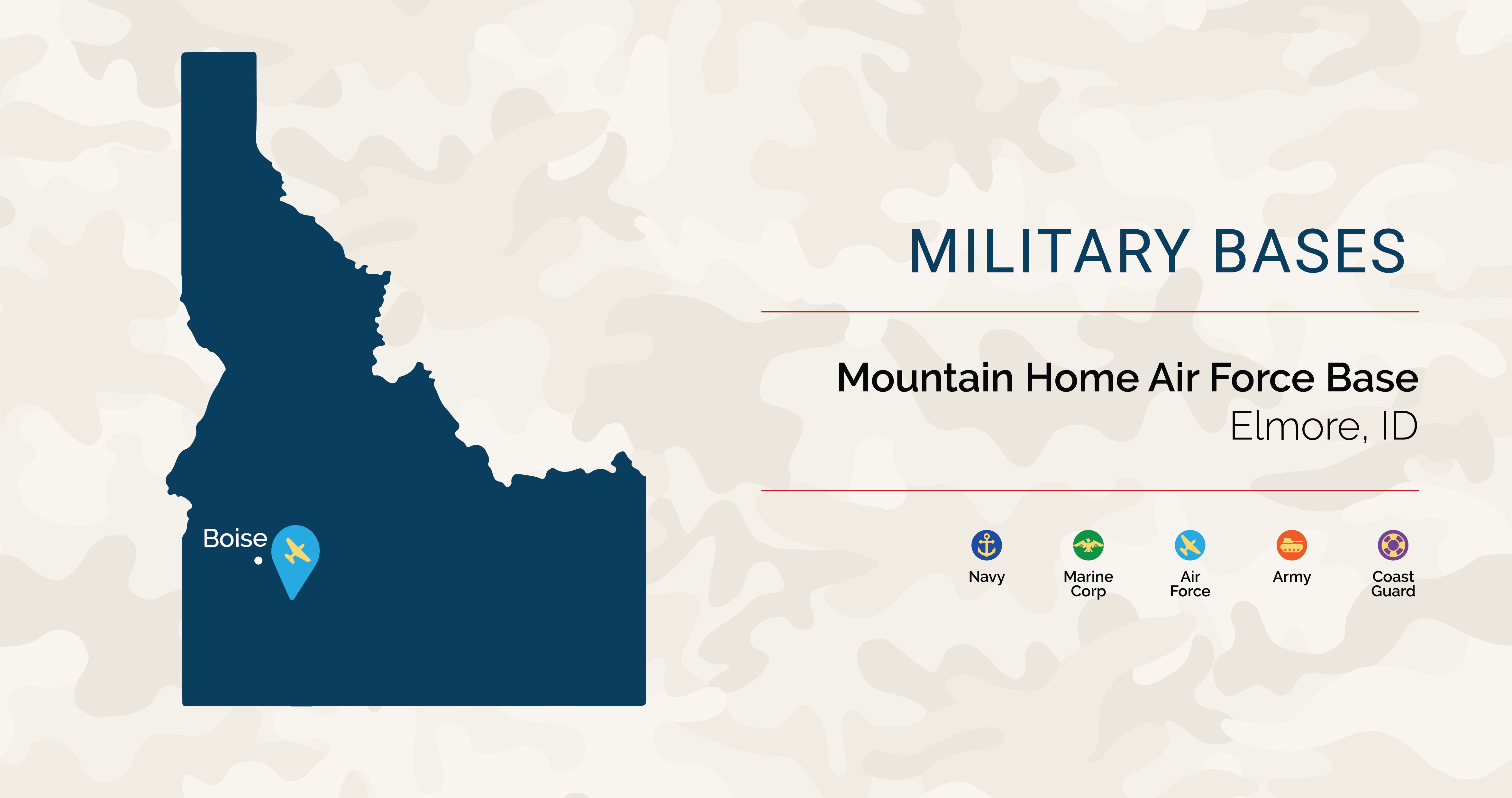 Whether you're a veteran living in Idaho or a current military servicemember, you may be eligible for a VA loan. VA loans can help you buy a home even if you haven't had a chance to save for a down payment or if you have a less-than-stellar credit history. VA loans feature:
No requirement for a down payment
No minimum credit score requirement set by the VA
Some of the lowest available mortgage interest rates
No need to pay for private mortgage insurance (PMI)
The VA's loan guidelines give these and other benefits to veterans and military personnel through private lenders. This is made possible because the VA guarantees that they'll repay a portion of your loan if you ever default and are unable to pay.
To make sure you get competitive veteran loan rates in Idaho, we recommend that you get quotes from a few different lenders—including us. Each lender has their own interest rates, terms, and qualification process, so this is the best way to make sure you get the best deal for your situation.
You'll also want to make sure your lender really treats you right and understands your needs as a veteran or servicemember. At Low VA Rates, we're dedicated to focusing on the needs of veterans, military personnel, and their families. To get a quote from us, you can get started online or call a loan service officer at 866-569-8272.
Veteran Housing Benefits
Idaho Veterans Homes
When you've served your country, have come home, and you need medical help, your state is ready. Idaho's veterans homes provide skilled nursing care, a comfortable living environment, and programs for social interactions and other needs. Apply for any of Idaho's veterans homes using this application.
To qualify for Idaho's veterans homes, you must:
Have an honorable discharge
Be an Idaho resident
No longer be part of the labor force because of illness, disability, or age
Have served during war or peacetime for 90 days or more
Apply and qualify for Medicaid
Be able to pay a certain amount per month
Apply for VA pension benefits (or already be receiving them) and for Aid and Attendance benefits
Surviving and current spouses of veterans can also apply with proof of their marital status, as long as the veteran was or is eligible for nursing care.
Property Tax Reduction
You can get a reduction of your property taxes if you live in and own a home in Idaho that is your primary residence. Your income must have been below a certain level for the previous year. See the current rules in the current Property Tax Reduction Brochure on the Idaho State Tax Commission website.
Among other possible qualifications, you could be eligible if you are:
A US military veteran with at least a 10% service-related disability rating from the VA or a VA pension for a disability that is not service-related
A former POW or hostage
To apply for this tax benefit, you can contact your county assessor, which you can find in your local phone directory or by searching online. They'll give you an application packet and can help you fill it out.
Homeless Veterans Programs
Idaho has compiled a list of the major service organizations that help homeless veterans in Idaho, because they believe no one should struggle with housing, especially if you've served your country. Some of these organizations include:
If you need to get ahold of one or more of these organizations, all of their contact information is available through the digital list. To find it, simply click on the downward-pointing arrows to see more information.
Veteran Employment & Education Benefits
Education Benefits
State Approving Agency
If you plan to use veterans education benefits in Idaho, the programs you'll attend will be overseen by Idaho's State Approving Agency (SAA). Educational programs may be offered by training establishments, institutions of higher learning, and certification and licensing agencies.
To see a list of all the locations offering programs approved by Idaho's SAA, you can follow the steps below to access and use the VA's Web Enabled Approval Management System (WEAMS):
Go to the WEAMS website
Click "ID" on either the US map or the text link below the map
At this point, a list of educational institutions will appear, and you can click on any of them to get more information about their programs
Contact any institution through their contact information to inquire about applying for their programs
Veteran to Nurse Program at Idaho State University
Idaho State University is blazing a trail for veterans with their new Veteran to Nurse program. If you have medical experience from your military service, you may be eligible. You must:
Be a veteran of the US Armed Forces
Have corpsman or medic knowledge and experience
Have a current CPR card from the AHA or Red Cross
Finish prerequisite classes or equivalent classes before the program starts
Your experience and knowledge of healthcare will first be evaluated by the institution. If you get into the program, you'll receive an accelerated curriculum that will use your military experience to help you earn a nursing degree.
You can learn more about the program from the brochure, or you can contact Idaho State University at any time.
Employment Benefits
Veterans Priority at Workforce Development Centers
To help you find work, you can use Idaho's Workforce Development Centers and One-Stop offices. By law, eligible veterans get priority for services and job referrals before non-veterans. Also, when you post your resume on the IdahoWorks website, employers will see that you're a veteran via a US flag logo on your resume.
You can find the office nearest to you through the office directory of the Idaho Department of Labor. Service workers there provide:
Referrals to job opportunities
Training opportunities
Employment programs
Access to job listings
Use of computers and internet
Career counseling
Unemployment Benefits for Veterans
After your discharge, you can get unemployment insurance benefits because of your service. This income can help you pay bills while you search for employment. To be eligible, you must:
Have finished your first full term of military service (with some exceptions)
Have an honorable discharge
You can contact the Idaho Department of Labor or the veterans representative in your area for help or more information.
Idaho Veteran State Employment Preference
If you've served on active duty with the US military and had an honorable discharge, you can get preference points added to examinations you take and pass for state jobs in Idaho. These points can also be applied to unremarried surviving spouses of deceased veterans or spouses of veterans who cannot work because of a disability.
Having these points added to your score can make you more of a competitive candidate for a state position by moving you higher up on the list of qualified applicants. There are two main point levels, which are outlined below:
5 points are added for veterans and surviving spouses who pass the exams
10 points are added for Purple Heart recipient, veterans with service-related of at least 10%, or their surviving spouses
In addition, you can also be guaranteed a job interview if you're a veteran with a service-related disability of at least 30% and are among the top 10 qualified job candidates.
If you'd like to learn more about the eligibility requirements for this benefit, you can visit the Veterans Preference FAQ on the Idaho Department of Labor website.
Professional Licensure Considerations in Idaho
Idaho offers three benefits for those who use professional licenses for their work.
First, if you're currently serving in the US Armed Forces, you can keep your state-issued license current without paying any fee. Your license will also stay in good standing during your service and for six months after it. You won't need to renew it during that time, and it can't be revoked, suspended, or canceled.
Second, Idaho's occupational and professional licensing boards can use your training, education, and experience from your military service as part of your qualifications toward a certification, license, or registration, according to law. This includes service with the Guard or Reserves.
Third, any professional license you already have in Idaho will not expire for six months after you're discharged from active duty. You'll just need to get in touch with your licensing board before the date when you would have renewed your license and give them documentation of your active duty status.
State Income Tax Exemption and Deduction
If you're on active duty and stationed outside of Idaho, you don't have to pay state income tax to Idaho.
You can deduct your military retirement benefits from taxes, as long as you're either 65 and older or, if you're disabled, 62 and older. The total amount you can deduct is determined by the rules for the tax year you're working on.
Other Veteran Benefits
Financial Assistance Grant
This Idaho grant program can give you up to $1,000 for emergency financial needs. To be eligible, you must:
Be a wartime veteran
Have been a resident of Idaho when you entered the service OR have been a resident for at least the last five years before your request
Your emergency need must have happened within the 90 days before your request. You can call the Office of Veterans Advocacy of Idaho to apply for this benefit.
Veterans Specialty License Plates
You can get specialty license plates in Idaho that display your military background. Use the DMV application to choose your license plate design from one of the many options.
Veterans or military families will need to show proof that they're entitled to these plates through documentation, such as a DD-214 form or a letter from the VA.
Veterans Designation on State Driver's License or ID Card
You can get a veteran designation on your Idaho driver's license or ID card. You'll need to show proof of your honorable discharge to your local DMV office.
This designation is free if you're getting a new card for the first time or renewing your card. If you want to get the designation added at any other time, you'll pay $15 for a duplicate card. Once you get the veteran designation, it'll be added automatically to any renewal of that card.
Idaho State Parks Veterans Pass
You may be eligible for free access to Idaho state parks and free use of campsites for up to 15 nights per month. To qualify, you must be a veteran with a 100% disability rating that was caused by or connected to your military service.
If you qualify, you'll get a small pass card. To apply, fill out the application and send it, along with your proof of eligibility from the VA, to the Idaho Department of Parks and Recreation.
Hunting & Fishing Licenses
Are you interested in hunting and fishing in Idaho? Disabled veterans with service-related disabilities of at least 40% can get discounts on hunting and fishing licenses. The amount of discount varies depending on if you are a resident or non-resident of Idaho.
To qualify for this benefit, you'll need a letter from the VA that verifies your disability. You can take the letter to a regional office of the Idaho Department of Fish and Game or mail it in.
Idaho State Veterans Cemetery
Eligible veterans can be buried in the Idaho State Veterans Cemetery, even if they weren't residents of Idaho. The burial fees are paid by the VA, but the VA doesn't pay for a funeral or preparation. You can choose:
A casket
A burial location in several different varieties or a scattering location
Military funeral honors and an honor guard detail
You can get a free pre-authorization for burial at the State Veterans Cemetery. It doesn't obligate you to be buried there, but it makes the process simpler for your family later. You'll need your discharge documentation and your marriage certificate, if applicable.
Veteran Benefits Assistance
Idaho's Office of Veterans Advocacy helps Idaho's veterans, survivors, and their families to get state and federal benefits they've earned. Their benefits specialists can also give you the latest information available about your benefits, as well as advise you and refer you to other services.
Visit or call the office nearest to you for help. You can also contact a nearby Veteran Service Officer (VSO) for an appointment.
About Low VA Rates
You can contact Low VA Rates any time for help with VA loans in Idaho. Since we were founded, we've specialized in helping veterans and military personnel, as well as their families, get VA loans. You can trust our deep experience in VA loans and our service to those who have served our country.

To get help with Idaho veteran loans, call Low VA Rates at 866-569-8272 or start an application on our website. One of our loan officers, some of whom are also veterans, will help you find good veteran loan rates in Idaho.