Hawaii's Veteran Benefits
If you're a veteran or current military servicemember living in Hawaii, you're in luck! Hawaii offers many state programs that can help you have a better life through tax breaks, low-cost licenses, employment and educational benefits, and more. Hawaii's Office of Veterans' Services (OVS) can help you apply for both state and federal benefits.
This overview of benefits compiled by Low VA Rates is designed to help you get the most out of living in the Aloha State by getting the benefits and services your country has created to serve you.
Hawaii Residents Save
$304
/mth
Savings based on 2015 active loan data
37
Lunches
*Based on an average lunch price of $8.08
Veteran Home Loans
If you're stationed in the Aloha State with the Air Force, Navy, Coast Guard, Marines, or Army, have you thought about buying a home here? If you don't want to sacrifice the convenience of living close to where you work, you could always buy a home near one of Hawaii's military bases.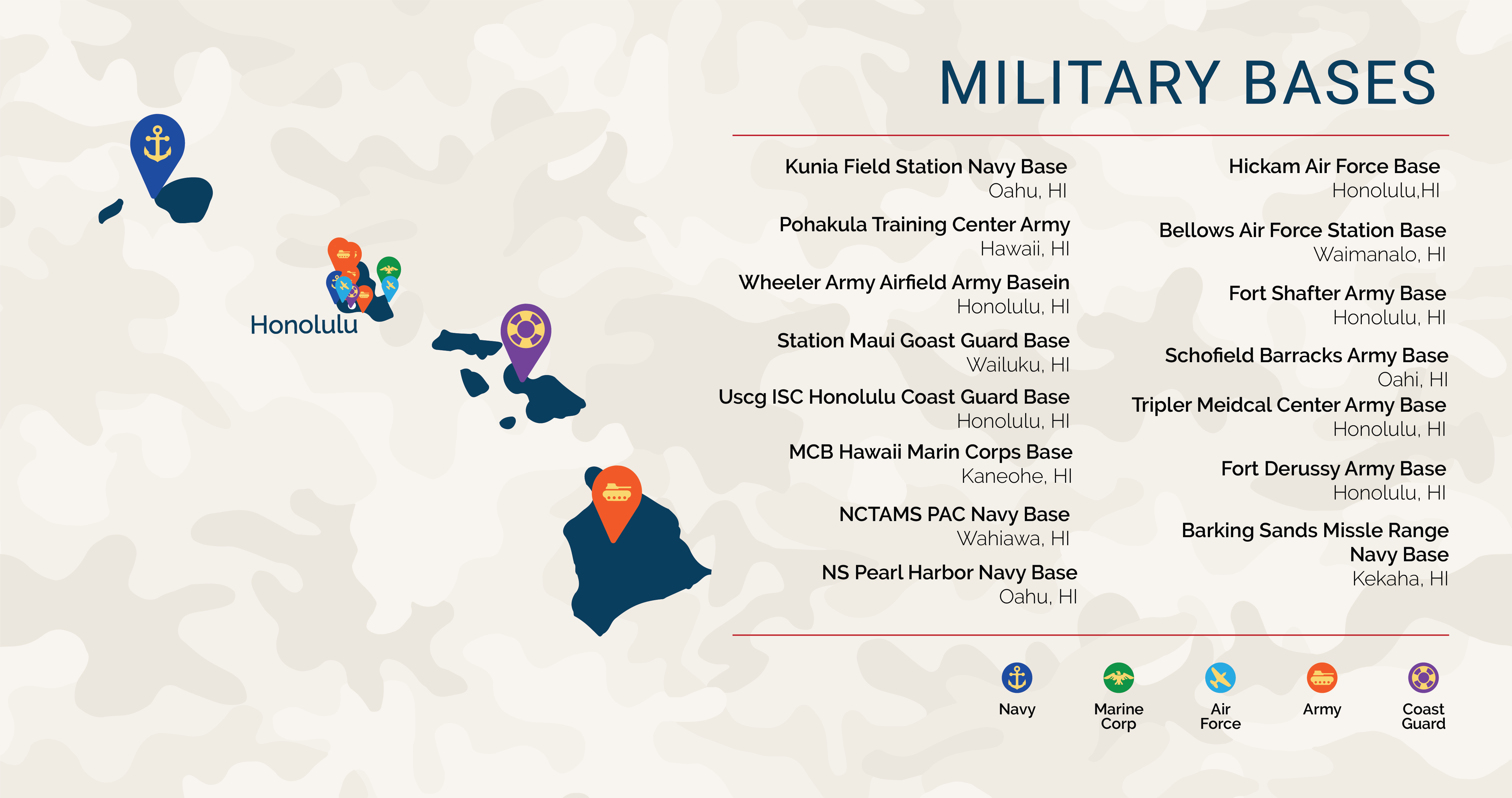 With VA loans in Hawaii, you might be able to buy a house more easily than you'd think. They have a variety of benefits that could help your dream of Hawaiian homeownership into a reality. Some of these benefits include:
No requirement to save up for a down payment in order to buy a house
Low interest rates, which can lead to low monthly payments
Easy qualification requirements, even with a low credit score
No private mortgage insurance (PMI) payments required
Both current military personnel and veterans can qualify for veteran home loans in Hawaii. Private VA loan lenders like Low VA Rates can help you determine your eligibility as well as give you a quote on a loan.
However, we want you to shop around so you know we're giving you the best deal! A little extra work now talking to multiple lenders can save you money later when it comes to getting a competitive veteran loan rate in Hawaii.
Your lender's rates and terms will affect how much you can get from a VA loan, which is why you want to find a VA lender with a great reputation and experience helping military personnel and veterans in Hawaii.
Low VA Rates qualifies in both areas.
We've specialized in helping military folks like you since the beginning, and we want to put our experience to work for you. You can count on us to listen to your needs, find the right type of VA loan for your situation, and do what's best for you in the long-term. Start an application with us online or call us toll-free at 866-569-8272 today.
Veteran Housing Benefits
Special Housing for Disabled Veterans
The State of Hawaii can pay to help disabled veterans buy or modify a house to make it more handicapped accessible. Up to $5,000 is available for veterans who qualify.
Hawaii State Veterans Home
Hawaii's first veterans home is the Yukio Okutsu State Veterans Home in Hilo. The staff there can help veterans by providing a variety of services, including:
Hospice care
Respite care
Skilled nursing care
Long term care
Alzheimer's care
Adult day care
Assistance with geriatric mental health
Assistance with dementia
Rehabilitation therapy
Criteria to be eligible may include one or several of the following:
Honorable discharge
Resident of Hawaii before military service OR current resident for at least a year
Age 55 or older
Recommendation for services by a physician
Ability to pay, if necessary
Though space is limited, Gold Star parents, spouses, and surviving spouses may also be eligible.
Property Tax Exemptions
Hawaii law allows completely disabled veterans or their surviving spouses to not have to pay property taxes on the main house that they own and live in.
A property tax exemption may also apply to a passenger vehicle owned by a disabled veteran, as long as the VA helped them purchase the vehicle.
Veteran Employment & Education Benefits
Employment Benefits
One-Stop Career Centers
Veterans in Hawaii are recognized as skilled and trained workers with good character who can be very valuable members of civilian workplaces.
So, to help them find work, Hawaii's Workforce Development Division (WDD) maintains One-Stop Career Centers, where veterans and other eligible servicemembers can use the training and employment resources and services they offer. Trainings can even help match veterans' military skills to specific civilian jobs.
The Local Veterans Employment Representatives at WDD's career centers are often veterans themselves, and they can help job-seeking veterans with:
Priority access to Hawaii's HireNet job search engine
Career counseling
Help preparing resumes
Job search training
Information on job availability and trends
Referrals to other trainings and even to jobs
If you apply for a state government job and complete a test during the interview process, you'll have five preference points added to your score as a veteran or 10 points added if you're a disabled veteran.
While these additional points don't guarantee you a job, they do help give you an edge during a competitive interview processes.
Education Benefits
Hawaii National Guard Education Benefits
National Guard members in Hawaii can get tuition help through the State Tuition Assistance Program (STAP).
This program pays for 100% of tuition at a community college and 50% of tuition at a university where the veteran can pursue four-year degree. These payments can be used at the same time as payments from the GI Bill and from Federal Tuition Assistance.
To qualify, students must:
Be enrolled in courses for an undergraduate degree
Have satisfactory performance in the Guard
High School Diplomas for Veterans
If you're a veteran of World War II, Korea, or Vietnam, you can receive an honorary high school diploma from Hawaii's Kupono Diploma Program. These diplomas are for veterans were unable to graduate because their time in a public high school in Hawaii was interrupted by military service.
Even if a veteran has passed away, family members are still able to request this benefit posthumeously. Both living veterans and the family members of deceased veterans must show proof of service and an honorable discharge status.
For more information, contact the Military Liaison at the Department of Education at (808) 271-5724 or by emailing doe_info@notes.k12.hi.us.
Other Veteran Benefits
License Plates
Eligible veterans can purchase customized military-oriented license plates for the same price as regular plates. Smaller versions are als available for motorcycles. These plates can commemorate important parts of your service history, such as:
Pearl Harbor survivor
World War II veteran
Korea veteran
Vietnam veteran
Persian Gulf War veteran
Veteran
Former POW
Combat wounded
Hunting Licenses
If you're on active duty and stationed in Hawaii, you can enjoy the same prices and privileges on hunting licenses as residents of Hawaii. This also applies to any dependents you may have.
Hawaii State Veterans Cemeteries
Hawaii has 7 state veterans cemeteries that are located in:
Makawao
Hilo
Lihue
Kailua-Kona
Lanai City
Kaneohe
Kauna Kakai
If you're a veteran, you, your spouse, an certain dependents are eligible for interment at these cemeteries, though there may be a burial service fee.
VA Pacific Islands Health Care System
This health care system cares for the medical needs of about 50,000 veterans in the islands of the Pacific, including the Hawaiian islands. They trive to provide innovative and integrated services with 21st century standards. Their facilities include:
Spark M. Matsunaga VA Medical Center, an ambulatory care clinic in Honolulu
Community-based outpatient clinics in Hilo, Kailua-Kona, Maui, Kauai, amd West Oahu
Tripler Army Medical Center, which provides transitional and long-term rehabilitative care
They also supply medical care on Lanai and Molokai through traveling and intern physicians. In addition, home-based care is available on Oahu, Hawaii, Kauai, and Maui.
Veteran Benefits Assistance
The State of Hawaii's Office of Veterans' Services (OVS) manages and develops programs and policies for veterans and their dependents and survivors. They facilitate cooperation between Hawaii's governor, the VA, other organizations that serve veterans, and veterans themselves.
The OVS helps veterans to learn about and apply for federal and state benefits and entitlements, advises and helps veterans who are returning to civilian life, and publishes information on issues that are important to veterans.
The OVS can take action to advocate for veterans and their families and survivors to ensure they get the services, benefits, and rights they deserve. They can even investigate and resolve complaints and disputes for veterans.
The OVS also provides these benefits and services:
Short-term counseling
Assistance with preparing and filing claims, as well as appealing decisions, for VA benefits
Burial assistance, including assistance for low-income veterans
Information and referrals to other services
Help with employment
Support grant requests for veteran-related causes
Legislative advocacy for veterans at the state and federal level
Storage of discharge documents for veterans
Referrals for veterans who don't qualify for VA benefits
Representation of veterans at VA hearings
Tax exemptions for veterans who are completely disabled
Oversight of the Yukio Okutsu Hilo Veterans Home
Validation of veterans' service credit that is to be applied to the state retirement program
Review of medical records from veterans' time in the service
The OVS can give veterans and their family members free certified copies of marriage, divorce, death, or birth documents for disability or death claims.
About Low VA Rates
Low VA Rates is focused on helping veterans and current servicemembers take advantage of their hard-earned benefits.
Because of this focus, we know all about the ins and outs of VA loans, and we want to put that expertise to work for you by offering competitive veteran loan rates in Hawaii.
So, if you're looking for VA loans in Hawaii, contact Low VA Rates. You can apply using our online application system, or simply give us a call at (866) 569-8272. We'll happily put together a professional and friendly quote that's customized to your needs.