Georgia's Veteran Benefits
The state of Georgia has set up many benefits to serve their veterans and military servicemembers and reward them for their service.
These benefits can help make your life more prosperous and comfortable, and they include tax exemptions, VA home loans, help with education and training, veterans homes, free licenses, and more.
Because there are so many benefits, it can be hard to keep track of them all. That's why our team at Low VA Rates has put this page together. We want to help you know about all of the benefits you could be using.
Veteran Home Loans
VA Loans
Are you stationed in the Peach State with the Marines, Army, Navy, or Air Force? If you're going to be in Georgia for a few years, you might want to think about buying a house there.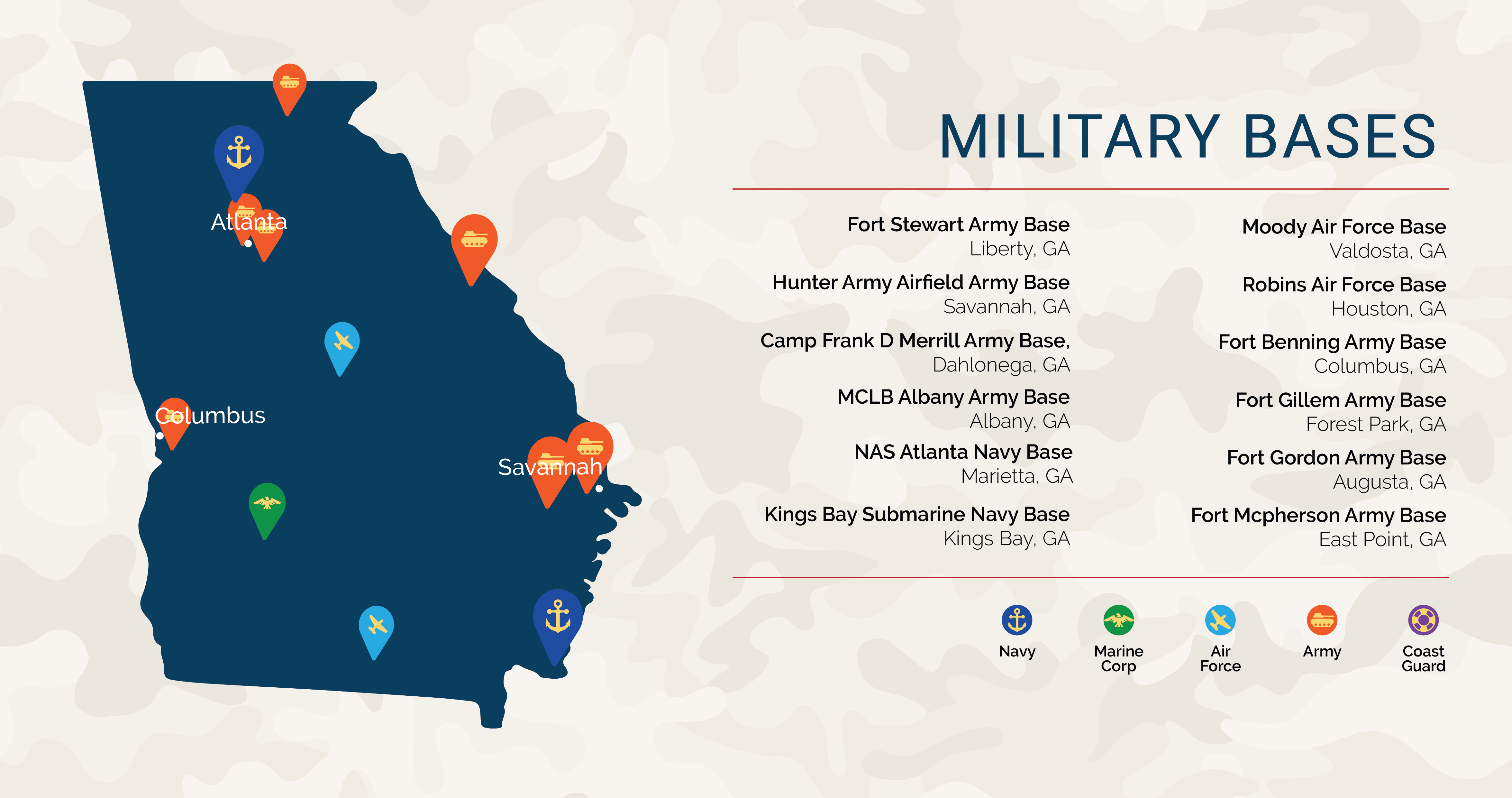 Are you worried about if you can afford a home? VA loans in Georgia can make it easier than you expect for both current servicemembers and veterans to get a home with an affordable loan.
The VA loan program offers mortgages with features such as:
No down payment required on home purchases
Very low interest rates compared to interest rates on many other mortgage types
No need for private mortgage insurance (PMI) payments
Relatively easy qualifications, even for those with low credit scores
If you're interested in veteran home loans in Georgia, you can get quotes from a few private lenders. Private lenders offer VA loans, supported by the VA's guidelines and guarantees. Each lender has different terms and rates, so it's smart to talk to a few different ones as you're searching for the best VA home rates in Georgia.
Your lender and your personal finances determine how much you can get from a VA loan. It's important to find a great lender who has experience helping veterans and current military personnel in Georgia, such as Low VA Rates.
We've helped veterans and servicemembers with VA loans for many years and know the (sometimes complicated) ins and outs of these loans. To have us help you get your loan, you can call us toll-free at 866-569-8272 to talk to a loan officer, or you can start an online application.
Veteran Housing Benefits
Homestead Tax Exemption for Disabled Veterans
If you're a veteran who has been honorably discharged from the military and are disabled, you may not have to pay all of your property taxes.
To be eligible for this benefit, you have to own the house you live in and use it as your main residence. You must also qualify as a disabled Georgia veteran under one of the following conditions:
Rated 100% disabled by the VA
Rated less than 100% disabled by the VA but paid the 100% disabled rate because of unemployability
Eligible for an award from the VA for one of the following reasons:

You are unable to use one or both of either your feet or hands
You have lost vision in one or both of your eyes
You have partial sight with permanent vision impairment in both eyes
The benefit can also apply to unremarried surviving spouses of deceased veterans, and their minor children, who continue living on the same property or move within the same county to another homestead.
If you didn't know about this benefit and would have qualified for it in the past, you can file a claim to get back the taxes you weren't required to pay. But you need to file within three years of when you paid.
To apply for this benefit, you'll need to go to a GDVS Veterans Field Service Office with your proof of Georgia residency, documentation that shows your military service, and your disability document from the VA or an authorized doctor.
State War Veterans Homes
Georgia's two veterans homes, located in Milledgeville and Augusta, were created to help Georgia's eligible veterans a better quality of life by providing housing and health care from skilled nurses. To qualify, you'll need to:
Be a Georgia resident for at least two years right before you apply
Have Georgia residency for a total of five years or more in the past 15 years
Have a discharge from the military that was not dishonorable
Have an eligible rating from the VA qualifying you for skilled nursing care
Be free of contagious and infectious disease
Be free of psychological and behavioral problems
Be free from line-operation life support
Have a history of active duty wartime service during World War II, Korea, the Cold War, Vietnam, or the Gulf War
Veteran Employment & Education Benefits
Veterans Employment Preference
If you apply for a government job with the State of Georgia and are a war veteran, you'll get a special boost on your job application.
The type of boost you get can vary, but ranges from an additional 5 points to an additional 10 points; details about how these points are given can be found on Georgia's government website.
Please note, though, that the preference doesn't guarantee you a job. It simply helps you during the application process.
On-the-Job Training Programs
Georgia has many on-the-job (OJT) training programs for entry-level jobs. These programs can help you learn a skill or trade that you don't already know.
All in-state training and educational programs are approved by Georgia's State Approving Agency (SAA). To see where educational programs are offered in Georgia, go to the WEAMS institution search tool and click on Georgia. Clicking here will take you to a list of all the institutions approved to offer education and training to veterans.
If you're a veteran and you get approved to participate, you can start working full-time at a job and earning a salary. You'll also get financial help from the VA for educational expenses.
Apprenticeship Programs
In an apprenticeship, you'll receive both practical on-the-job training and classroom instruction on theories and principles of the trade. When you're at your full-time job, you'll learn from a journeyman or skilled worker, and you'll earn a regular salary.
Some of the trades you can learn include:
Brick mason
Electrician
Plumber
Carpenter
And many others!
If you're approved for an apprenticeship, you'll work for two years or more. You'll need to complete at least 144 hours of classroom work each year.
To see the list of approved institutions offering educational programs in Georgia, select our state on the map of the US on the WEAMS institution search tool.
Operation: Workforce
This is a special website that provides employment services and resources for Georgia's veterans from a variety of organizations and agencies. You can use it to help you know how to present your military training and experience when applying for a related civilian job.
High School Diplomas
If you weren't able to finish high school because you served in World War II, Korea, or Vietnam, you are eligible to receive a high school diploma.
You'll simply need to apply at the board of education in the Georgia school district where you attended high school. If you need help, please feel free to call the Georgia Department of Veterans Service at (800) 436-7442.
Other Veteran Benefits
No Income Taxes after Combat Death
Georgia residents who are US military servicemembers and who die in combat are completely exempt from income taxes for the whole taxable year of their death. They're also exempt from income taxes for any previous taxable year that ended on or after the first day they entered a combat zone.
h3>Business Certificate of Exemption
If you're a veteran living in Georgia, you can qualify not to have to pay certain fees and taxes that are imposed by your local government for doing business, peddling, or practicing a profession or semi-profession.
You have a disability of 10% or more caused by your service in wartime or 25% or more from your service in peacetime
The conditions of your discharge were honorable
Your income subject to state income tax
Ad Valorem Tax on Vehicles
This benefit can apply to you if the VA has verified you to be completely and totally disabled because of your service. Or you can receive it if you're getting benefits from the VA for the loss or loss of use of one or two hands or feet, as well as a certain amount of lost sight.
If you're eligible, you don't have to pay either the title tax on your vehicle or the annual property tax, whichever applies to you. This benefit is for one vehicle that you own, which must have a Disabled Veteran, Purple Heart, or Medal of Honor license plate.
Sales Tax Exemption for Purchasing and Adapting a Vehicle
If you're a disabled veteran who has gotten a grant from the VA to buy and adapt a vehicle, you don't have to pay Georgia state sales tax on that grant.
License Plates
You may be eligible for special license plates with no registration, manufacturing, or annual fee on your first plate. You can choose from the following types of plates:
Veteran
Woman veteran
Retired military
Commemorative service (honors particular wartime campaigns)
Military medal (identifes your specific medal or award)
Reserve component
All of these plates require Georgia residency and honorable discharge. To get your special license plate, you'll need to take a completed Form MV-9W, your discharge document, and any other applicable documents to your county tax office.
Disabled Veteran License Plate
A disabled veteran license plate in Georgia has a blue wheelchair symbol on it, the words "Disabled Veteran," and a US flag in the background. You can get a smaller version of it for motorcycles, but it's not available for motorhomes.
You won't have to pay a registration, manufacturing, or annual fee for your first license plate of this kind. If you want a second one, there is a charge of $25 for manufacturing and a $20 annual fee. To qualify, you'll need to meet the VA guidelines for disability or statutory award.
This benefits is also available to surviving spouses who have not remarried and to surviving minor children.
Disabled Veterans Parking Privileges
If you have a Disabled Veteran license plate and properly display it, you may park in disabled parking spots without needing to get a separate disabled parking permit.
Free Driver's License with Veteran Designation
If you are a veteran who was honorably discharged, you can receive a free veteran's driver's license, which will have the word "VETERAN" on the front and a US flag in the background. To qualify, you'll need to:
Meet one of the following Georgia residency requirements:

You're a resident of Georgia and you entered your military service from Georgia, OR
You've been a resident of Georgia for the past two years
And meet one of the following service requirements:

You're a veteran of wartime service, which can include wartime service through the Reserves or National Guard, OR
You're a current or former member of the National Guard with creditable service of 20 years or more
To get your driver's license, take documents proving your eligibility to a GDVS Veterans Field Service Office. An officer there will check your documents and give you a Certificate of Eligibilit (DS-516). The officer will then tell you how to apply at the Georgia Department of Driver Services office.
Veteran ID Card
If you meet all the requirements to get a free veteran's driver's license but still can't get one, you may qualify for a free veteran's ID card, as long as you don't have a driver's license from another state.
To get your free ID, just take your documents proving your military wartime service and your Georgia residency to a GDVS Veterans Field Service Office. An officer there will go over your documents and give you a Certificate of Eligibility, if you qualify. He or she can then instruct you on how to apply at the Georgia Department of Driver Services office.
Driver's License Renewal & Expiration Extension
If you're on active duty, you can send a request through the mail to renew your Georgia driver's license or ID card.
Additionally, if you're on active duty outside of Georgia, your driver's license will still be valid up to six months after it expires.
Hunting and Fishing Licenses
If you're returning to Georgia residency after a period of active duty, you can get a free one-year, full-privilege license for state recreational fishing and hunting. This license is for veterans of any branch of the service, including reserve components, and for Georgia National Guard members who were ordered to federal duty for 90 days or more.
In addition, if you're a veteran with a complete and permanent disability, you can qualify to get a three-year sportsman's license. Or, if you're completely blind, you're eligible for a Resident Lifetime Fishing License for the Blind.
For veterans who have been honorably discharged, they can qualify for a Military and Veterans Lifetime License. Senior veterans may also qualify for other lifetime licenses, regardless of their veteran status.
State Park Entrance Fee Reduction
If you're a Georgia veteran with an honorable discharge who has a disability because of your service, you can get a 25% discount on the entrance fees to historical sites, recreational areas, and state parks.
You will need to apply for these discounts in advance at your GDVS Veterans Field Service Office. When you go to apply, make sure you bring your discharge document showing your disability rating and your proof of Georgia residency.
Vital Statistics
Veterans can get free copies of birth, death, divorce, and marriage documents, if those documents are used in disability or death claims. This benefit is also for family members of veterans.
Veteran Benefits Assistance
Georgia's Department of Veterans Service (GDVS) offers Georgia veterans and their families many programs and services, including:
Skilled nursing care in two state veterans homes
Help applying for benefits
Help with appealing decisions
Cemetery committal services
On-the-job and apprenticeship training programs
GDVS team members work hard to help veteran residents to learn about and get state and federal benefits that they are qualified for. To get their help applying for any of your benefits, you can give them a call at (800) 436-7442.
Women Veterans Office
The GDVS Women Veterans Office helps female veterans and their families through education, outreach, advocacy, and support. Their team members:
Help women apply for benefits
Counsel women for sexual trauma suffered in the military
Host programs that help women veterans and their families
Provide mentorship and advocacy for veterans who are using veteran treatment courts in Georgia
GDVS Appeals Division
This part of the GDVS helps veterans and their families to appeal unfavorable decisions related to their requests for benefits. The Appeals Division can also help with claims that were filed at GDVS Veterans Field Service Offices. Their officers can even help a veteran who needs to appear at a hearing before a VA officer or board.
About Low VA Rates
When Low VA Rates was founded our plan was always to work with veterans and current military personnel to help them to get the VA loans they needed and were entitled to. We've stuck with that mission for all these years, gaining lots of experience we can use to help you explore VA loans in Georgia.
Lenders of traditional mortgages often look for a credit score of 620 or higher. But we can help you get a VA loan with a lower score than that. We can even help if you don't have any credit history at all.
So, if you need to build or buy a home, refinance a mortgage, or repair or upgrade a home, call Low VA Rates at (866) 569-8272. A friendly team member will give you a fast and professional free quote, or you can visit our online application today.
Georgia Residents Save
$154
/mth
Savings based on 2015 active loan data
19
Lunches
*Based on an average lunch price of $8.08