Delaware's Veteran Benefits
If you're stationed in Delaware or you're a veteran who's made it your home, there are a lot of state-run benefits you have access to, including veteran home loans, housing programs and benefits, employment and education opportunities, and more.
Veteran Home Loans
If you're serving in the US Air Force and will be stationed in Delaware for the foreseeable future, you should think about using a VA loan to buy a home here. If you find one near Delaware's Air Force base, you could still have convenient access to where you work while enjoying the benefits of homeownership.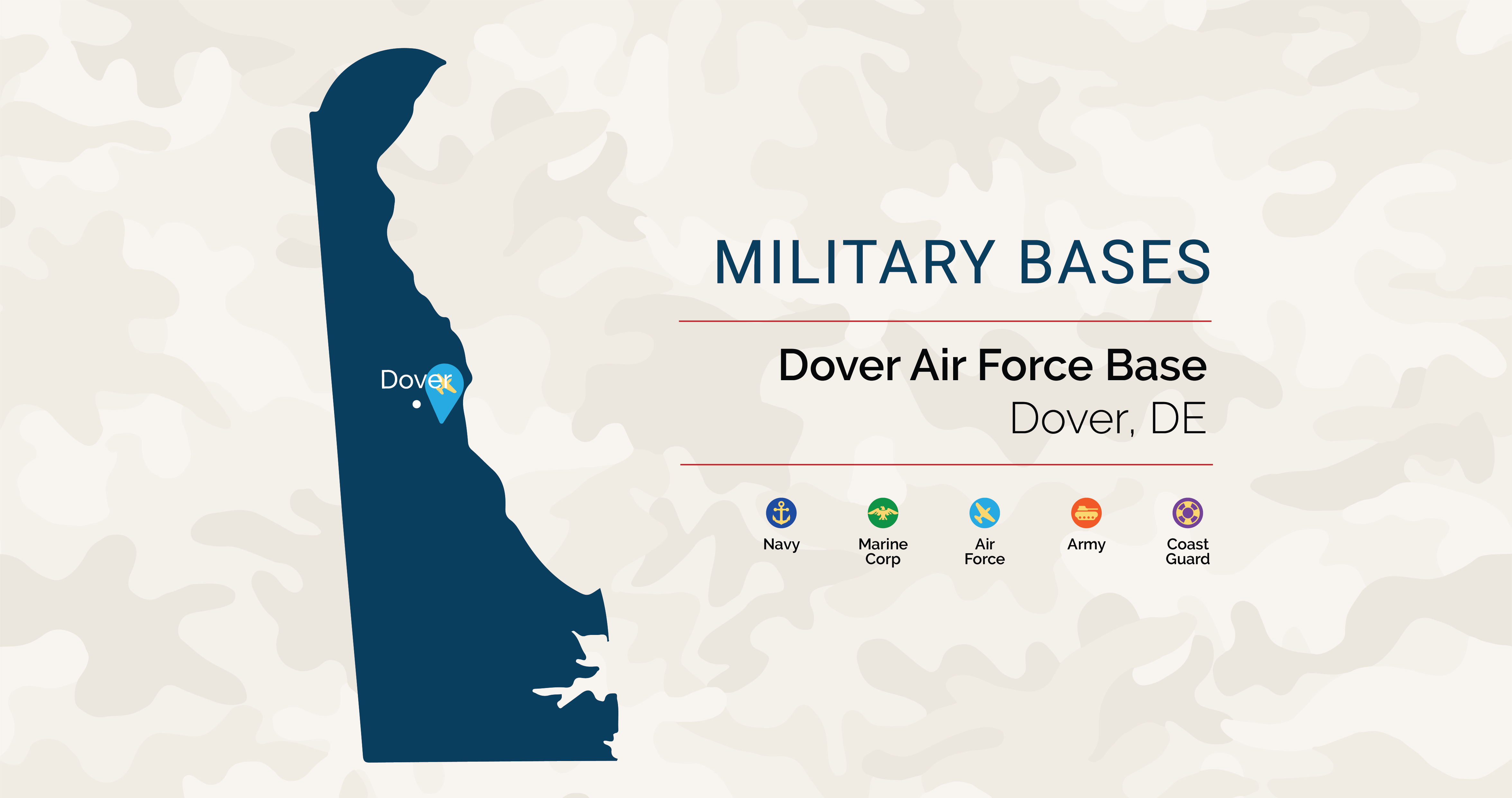 VA loans in Delaware are helpful for both veterans and active servicemembers. If you're eligible, you can buy a house more quickly and easily than with most other mortgage types, because Delaware veteran loans feature:
A quick and easy qualification process, even if your credit isn't the best
No down payment requirement
Lower interest rates than with many other mortgage types, which can lead to lower monthly payments
No requirement to get private mortgage insurance (PMI)
The VA sets the guidelines and standards that private lenders use when they issue VA loans. The VA also gives lenders a guaranty with each VA loan, protecting them from borrowers who don't pay back their loans.
Because the guarantee reduces their risk, it enables private lenders to offer these kinds of killer benefits through VA loans.
While every private lender that offers VA loans conforms to the VA's guidelines, they're also able to set their own requirements, terms, and interest rates.
For this reason, we always advise borrowers in Delaware to gather quotes from a few top lenders to find the veteran loan rates and terms that best meet their needs. After all, you're going to have those interest rates and terms for a number of years.
It's also smart to work with a lender that cares about veterans and really understands VA loans, which is exactly what Low VA Rates is all about. We've focused on veterans and military personnel since our founding, so we've seen almost every possible situation and know how to help.
We'd love to help you, too. To get started, either call us at 866-569-8272 or start the process online.

Deleware Residents Save
$190
/mth
Savings based on 2015 active loan data
23
Lunches
*Based on an average lunch price of $8.08
Veteran Housing Benefits
Delaware Veterans Home
Delaware's veterans home in Milford offers:
Skilled nursing services
Help with daily activities like grooming and exercise
Meals in a dining hall
Special programs honoring veterans
Physical, speech, and occupational therapy
Community areas such as a library, barbershop, canteen, gift shop, and chapel
Laundry and housekeeping services
And plenty more!
In addition, there is also a medical director on site, as well as a psychiatrist, dietician, wound care nurse, and advanced practice nurses.
To be eligible, the veteran must have:
An honorable discharge from active duty service, OR
Served 180 days or more with the Reserves or National Guard or be eligible for retirement pay at age 60 from the Reserves or National Guard
Veterans also must be current Delaware residents who have lived in Delaware for at least the last three years. Finally, they must require skilled nursing care according to state and federal rules.
To apply for the veterans home, please contact their admissions office.
Veteran Employment & Education Benefits
There are a good number of benefits for you in Delaware if you're looking for work, more education, or both.
Education Benefits
Benefits for Children of Deceased Veterans
Students between the ages of 16 and 24 can receive special educational benefits from the State of Delaware. To qualify, a student must have a parent who is a:
>
Deceased veteran who died on active duty or from causes that resulted from military duty, OR
Prisoner of War (POW) or is Missing in Action (MIA)
In addition, the student themselves must have been:
A Delaware resident for three or more years before his or her application for benefits
Admitted to a program at an institution of higher learning for up to a four-year degree
For help with your application for this benefit, contact the Delaware Commission of Veterans Affairs.
Education Benefits for Active Members of the Delaware National Guard
Are you an active member of the Delaware National Guard? You can get reimbursed for certain postsecondary tuition and fees.
The reimbursement can be only be used once for each degree level, so you could use it to earn one bachelor's degree and one master's degree. Other requirements to qualify for these benefits include:
The school must either receive funds from Delaware or be located here
Your classes must be part of the requirements for a degree
You must be enrolled as either a part-time or full-time student
You must commit to six years of satisfactory service in the Delaware National Guard, which can include time served from before receiving these benefits, as well as service during and after
You must earn a GPA of 2.0 or higher.
This benefit program has a certain limit to its total annual funds, so you'll want to apply as early as possible. You can contact the Delaware Commission of Veterans Affairs for more information on how to apply.
Employment Benefits
Resources for Finding Employment with the State of Delaware
Delaware has many resources to help veterans become state employees. There are a wide variety of state jobs available for many different areas of interest. You can see the current positions that need to be filled on the Delaware Employment Link. They're split into two major categories: merit and non-merit.
For your convenience, you can create a profile on the Employment Link website. Creating your profile will save you time as you fill out and submit applications because you'll be able to quickly copy your information into each job application instead of filling them manually each time.
Other resources that can help you with your job search include:
You can also talk to career counselors if you need more guidance or would prefer in-person assistance.
State Employment Veterans Preference
As a veteran, you get employment preference for state jobs. This preference is applied when the position requires you to take an examination during the hiring process. If you pass, you'll get five points added to your score. If you're a disabled veteran, you'll get ten points added.
Preference also applies to military spouses. In these situations, you can claim the points that would have gone to your veteran or servicemember spouse if they are:
MIA or a POW
Completely disabled
Deceased (and you have not remarried)
Veterans Opportunity Credit
The Veterans Opportunity Credit is actually a benefit for private employers, however it may benefit you in a secondary way, in that it may motivate some sellers to hire more veterans while rewarding those who already do or want to.
It works like this: basically, employers earn a tax credit during the year they hire a qualified veteran who served in a hostile environment) and during the two years after that. The tax credit can be up to $1,500 per year.
In order to take advantage of this benefit, you might consider politely mentioning your service during job interviews or on your resume or cover letter.
Temporary Occupational Licensure for Military Personnel and Spouses
If you or your spouse have a professional license from another state and move to Delaware, you can get a temporary, six-month license to practice in Delaware. The license will allow you to work in your field while your application for a permanent Delaware license is processing. Apply using the military member application or the military spouse's application.
Licensure Consideration for Military Education, Training, or Experience
Your professional licensing board can consider your military education, training, or experience (METE) as part of your qualifications for your occupational license. They'll decide if your METE can be used based on evidence you submit to them. (Of course, you'll still need to satisfy any other necessary licensure requirements.)
It's recommended that you apply for this benefit only if all of the following are true:
You're either an active duty military servicemember, a member of the Reserves or National Guard, a military retiree, or a veteran
You're currently applying for a license or have a license application pending
You think you'll only be able to satisfy your licensure requirements through METE credit
Other Veteran Benefits
Delaware Joining Forces (DJF)
Delaware Joining Forces (DJF) is a network of state agencies that help military personnel, veterans, and their families. They assist with needs such as:
Education
Behavioral health and wellness
Housing
Employment and job training
Legal assistance
Financial aid
You can search for organizations that can help you through the following steps:
Click on this link: DJF website
Look for the area called "Search for Services"
Click on the dropdown box and select the type of help you need
Select your county
Enter any helpful keyword(s) or leave that box blank
Hit the "Search" button
You can contact the DJF for more information.
Pension Benefits for Paraplegic Veterans
Delaware offers a pension of $3,000 per year to eligible paraplegic veterans. If you qualify, the money is split evenly into monthly payments.
To apply for this benefit, you will need to send in evidence that:
You're paraplegic and completely disabled, AND
Your disability resulted from military wartime service
For help with your application, feel free to contact the Delaware Commission of Veterans Affairs.
Veteran ID Cards from the Delaware DMV
As a veteran of military service with an honorable discharge, you can get a free ID card from the Delaware DMV. This card is useful for several purposes; for example, it allows you to be recognized as a veteran by businesses without you having to carry your DD-214.
To get your free card, you can set up an appointment at any Delaware DMV office location. You'll need to bring these items:
A current, valid Delaware ID card or driver's license
Documentation of your military service, which might include one of the following:

Form DD-214
Your military ID card
Your deployment orders
Your honorable discharge certificate
Special License Plates
You can request military license plates at your local DMV, which can commemorate aspects of your military service history, such as:
Army Commendation Medal
Former Prisoner of War
Formerly Missing in Action
Disabled Veteran
Delaware National Guard
Delaware Reserve Member
Retired Military
Vietnam War Veteran
Korean War Veteran
Gold Star Family
Operation Enduring Freedom
Operation Iraqi Freedom
Purple Heart Recipient
Medals of Valor Recipients
You can see other available plates on the DMV website, and you can apply there for any plate that has an underlined link in its title. You can also contact the Delaware DMV directly.
Registration and Inspection of Disabled Veterans' Motor Vehicles
This benefit applies to you if you:
Are a disabled veteran
Own a motor vehicle that qualifies for "adaptive equipment" benefits (modifications that help you enter and exit the vehicle)
If you qualify, you don't have to pay registration fees on that motor vehicle. This benefit applies to only one vehicle at a time per veteran.
State Park Admission
You might be eligible for a half-price annual vehicle pass to Delaware's state recreational areas and parks. To qualify, you must:
Be a veteran with an honorable discharge OR a servicemember serving honorably (members of the Delaware National Guard are included)
Be a Delaware resident
Own a Delaware-registered motor vehicle
Notary Service for Veterans
Whenever you need a document to be officially notarized, this benefit can be convenient. You can get free notary services from the Delaware Commission of Veterans Affairs if you're a veteran, a veteran's dependent, or a family member of a veteran.
Hunting, Trapping, and Fishing Licenses for Military Personnel and Disabled Veterans
Two different benefits are available for hunting, trapping, and fishing licenses. First, if you're stationed in Delaware with the US Armed Forces, you may purchase those licenses for the same price that a resident enjoys.
Second, if you're a disabled Delaware veteran, you can get any of those licenses free of charge if you have been rated by the VA as at least 60% disabled.
Delaware State Veterans Cemeteries
Delaware's has two veterans memorial cemeteries. These cemeteries allow the interment of Delaware resident veterans who were honorably discharged, as well as the interment of their spouses and dependent children.
Other eligibility requirements do apply.
Copy of Death Certificate
Qualified surviving family members can get a free certified copy of a veteran's death certificate. If you're a veteran's next of kin helping to settle his or her affairs, contact the Delaware Commission of Veterans Affairs for help with obtaining the death certificate.
Veteran Benefits Assistance
As part of the Delaware Department of State, the Delaware Commission of Veterans Affairs is dedicated to helping veterans receive their benefits.
If you have questions about any of the benefits listed above, you can contact them for assistance, either by phone or email. They are ready to help and are open to any suggestions for the improvement of Delaware veterans programs and facilities.
About Low VA Rates
To get help with VA loans in Delaware, please get in touch with Low VA Rates. We were founded with the mission of helping our military servicemembers, veterans, and their families to get VA loan benefits, and we've racked up years of experience achieving this goal.
We're excited to help you find some of the great veteran loan rates in Delaware. Just give us a call at 866-569-8272 or get started online. Either way, you can work with a professional and helpful loan officer who will work to find the Delaware veteran loans that are best for you.