Arizona's Veteran Benefits
Are you a military servicemember or veteran living in Arizona? You can access a wide range of government services and benefits for veterans and current military personnel. The Arizona Department of Veterans' Services (ADVS) can help you apply for these benefits, as well as make sure you receive them.
Low VA Rates has pulled together some of the best benefits you can get in Arizona: help to finding a job, VA loans, reduced tuition for higher education, funds during hard times, tax exemptions, special licenses, and much more.
Arizona Residents Save
$143
/mth
Savings based on 2015 active loan data
17
Lunches
*Based on an average lunch price of $8.08
Veteran Home Loans
If you're in the Air Force, Army, or Marines and stationed in Arizona, it may be time to think about buying a home near one of Arizona's operating bases.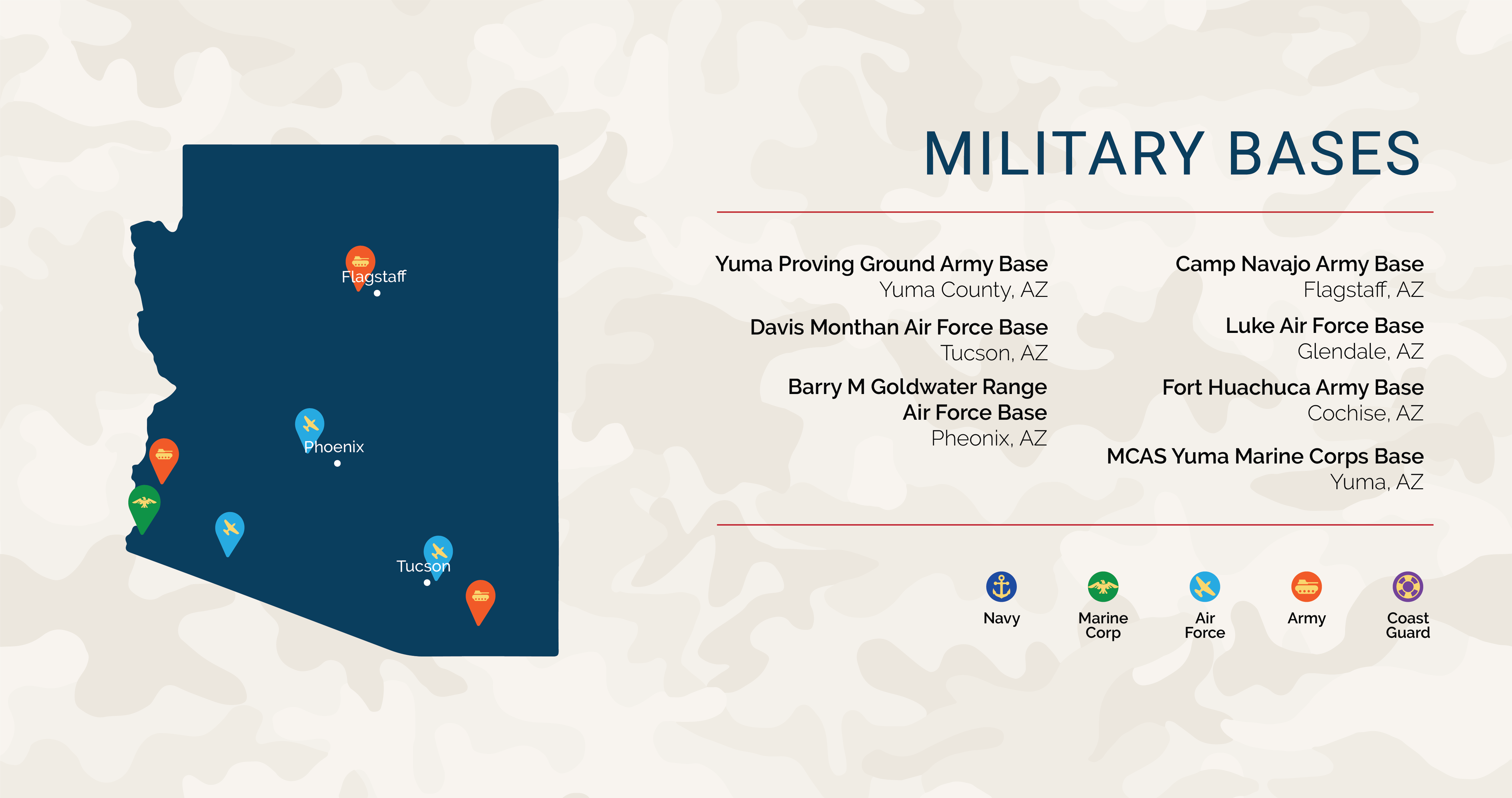 If you're a veteran living in Arizona or an active servicemember stationed at an Arizona base, you could qualify for a VA loan, a type of mortgage that makes it easy for members of the US military to buy a home.
The U.S. Department of Veterans Affairs (VA) guarantees part of each VA loan, which helps protect both borrowers and private lenders. The VA's backing also lets military personnel and veterans anywhere in the US get better terms and lower interest rates.
You'll want to apply for a VA loan with an experienced VA-approved lender, like Low VA Rates, that can assist you with your loan in Arizona. Your lender can help you find out what dollar amount you may qualify for.
VA loans offer benefits such as:
No requirement for a down payment on a home
Easy qualifications compared to many other mortgage types
Low interest rates compared to other home loans
No requirement to pay private mortgage insurance (PMI)
Find out more about this program on Low VA Rates' VA loans page, or call one of our loan specialists at 866-569-8272.
Veteran Housing Benefits
Arizona State Veterans Home
If you need skilled nursing care in Arizona, look into the veterans homes in Phoenix and Tucson. They have a mission to help veterans reach their highest state of well-being.
You may be eligible if you were honorably discharged from the military and were told by a doctor that you need skilled nursing care. Other eligibility requirements, as well as required forms, can be found on each home's individual page (here for Phoenix and here for Tucson). Spouses may also be eligible.
As of April 2018, two new veterans homes were approved and funded to be built in Flagstaff and Yuma.
Property Tax Exemptions
If you're disabled or a surviving spouse of a member of the military, you may be eligible to avoid paying property taxes. However, exemptions are handled on a county-by-county basis, so in order to determine your actual eligibility, you must contact your county assessor. The best way to do so is to Google your county's name, plus the words "county assessor."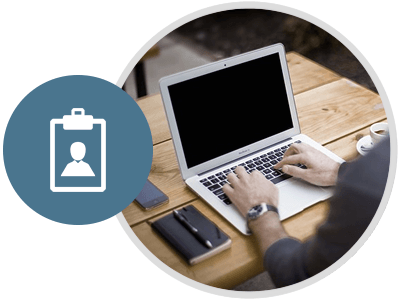 Veteran Employment & Education Benefits
Employment Benefits
If you're a veteran or servicemember looking for work, the Arizona Department of Veterans Services (ADVS) has put together resources to help you in a variety of way, including helping you start a business.
Veteran Toolkit Program
One of the simplest ways the ADVS can help you with employment is by providing money for you to buy the items you need to get started, which they do through the Veteran Tool Kit Program.
Veterans who have expressed a desire and willingness to work can get the help they need to make it happen. From a bicycle or car repairs to tools or boots, this program provides up to $750 to each veteran.
To be eligible, you'll need to:
Get enrolled in an Arizona Department of Economic Security employment program
Know the job you could start and the supplies you'll need
Be an Arizona resident
Resources for Finding Employment
If you need help to find a job, the ADVS website has a list of links that can connect you with potential employers. These resources are available for veterans, servicemembers who are transitioning to civilian life, and military families.
In addition to job listings, some of these resources can also help you with other skills necessary for the job market, like how your military skills can apply to civilian jobs or how to write a good resume.
If you have to take a test for a government job in Arizona and are a veteran, you'll have points added to any test you pass. You need to have an honorable discharge and more than six months of military service. Having points added doesn't guarantee you a job, but it gives you a boost during the interview process.
If you were honorably discharged and are receiving compensation from the VA for a service-related disability, you'll have double the points added to your test. Some military spouses or surviving spouses can also qualify to receive this preference.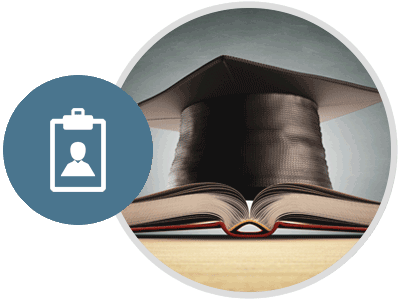 Education Benefits
Arizona's State Approving Agency (SAA) evaluates educational programs for veterans. The agency helps veterans receive quality education and training through the use of their GI Bill. To see the institutions that offer these programs, use the VA's WEAMS Institution Search tool. Click on Arizona on the map.
In-State Tuition
If you're a veteran who recently moved to Arizona, you and your dependents can immediately benefit from in-state tuition rates instead of paying the much-higher tuition rates non-residents pay. To be eligible, you'll need to:
Be a veteran
Have been discharged within the last 36 months
Have served active duty for 90 days or more
Be using benefits from either VA Chapter 30 or Chapter 33
If you meet these conditions, you'll just need to currently live in Arizona and complete one of the following:
Update your permanent address to be your Arizona address
Get an Arizona driver's license
Register a vehicle in Arizona
Register to vote in Arizona
Transfer the banking services you use to Arizona
Establish a job history in Arizona
Use other documents or materials to show your residency
This waiver helps veterans who were wounded in action, as well as the dependents of veterans who died during military duty, afford an education.
Recipients of this benefit include:
Members of the Arizona Army National Guard who received a Purple Heart award or who were discharged for medical reasons on or after September 11, 2001
Dependents under the age of 30 and surviving spouses of Arizona veterans who died in the service on or after September 11, 2001
Veterans from after September 11, 2001 who were Arizona residents during their time in the military, received the Purple Heart award, and have a VA-rated disability of 50% or higher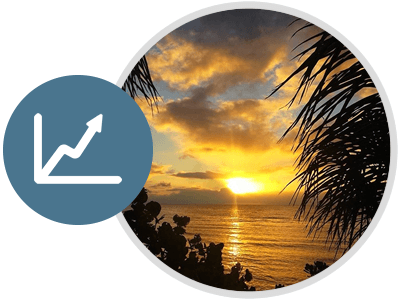 Other Veteran Benefits
Arizona Military Family Relief Fund
This fund helps military families through financial hardships, regardless of whether they are currently serving in a combat zone or are stationed at home. If a family is facing an urgent financial emergency, their application can be expedited if it's their first time applying for the fund.
Help is for those who:
Were honorably discharged
Served in a designated combat zone
Are an Arizona resident, or deployed from an Arizona military base
In addition, it is also part of the eligibility requirements that the financial hardship must be related to combat deployment.
Arizona's Veterans Court
Veterans Court is a process that aims to help veterans who are struggling with the law. Its goal is to create a plan to treat the causes of the veterans' legal trouble, so they can become contributing members of society again.
Multiple people and groups, including the veteran's defense attorney, the prosecuting attorney, and the judge, come together to create these plans. Sometimes, support organizations also get involved, including the local or federal VA.
If you want to know if you're eligible for Veterans Court, ask your judge, prosecutor, or defense attorney if you can be considered. You can learn more about the nearest program by visiting the website for Arizona's Veterans Court.
This is a special medal created for Arizona military personnel who were killed in action after February 13, 1912. One medal per eligible veteran is available to their next of kin. To be eligible, the veteran must have died during at least one of the following:
Active duty against an enemy of the US or an opposing foreign military force
Service with friendly foreign forces against a foreign military when the US is not a hostile party
Service in a combat area because of presidential orders
Income Tax Exemptions
If you receive payments from a civil service or military retirement, you don't have to pay state taxes on at least part of the money—up to $2,500 per year.
Native American Settlement Fund
In 2000, the U.S. Department of Justice declared that it was not permissible to tax or withhold state income tax from the active duty military pay of Native Americans who live on a reservation.
If you were taxed between 1977 and 2005, you can claim a refund from Arizona through the Native American Settlement Fund. A surviving spouse or personal representative can also put in a claim.
Veterans in Arizona don't have to pay vehicle license or registration fees if:
They have a 100% disability rating from the VA
The VA helped them purchase their vehicle
They are deployed or have been in the past year
Surviving spouses who have not remarried may also qualify for an exemption under certain circumstances. For the veteran to qualify, they must:
Have resident status in Arizona
Serve in the Armed Forces, Reserves, or National Guard
Own or lease a vehicle
Arizona Veteran Driver's License
If you're a veteran, you can apply to have the word "VETERAN" on your Arizona driver's license, Arizona ID card, commercial driver's license (CDL), or learner permit.
To apply, you can either fill out the application online or you can print the form and fill it out—in both instances, you will need to make sure you check the box for the VETERAN designation.
Once you've completed the form, you will need to visit your nearest Motor Vehicle Division (MVD) office with the appropriate documentation of your veteran status.
Commercial Driver's License (CDL)
If you're a veteran and you want to apply for a commercial driver's license (CDL), you may not have to take the skills test. You'll need to request this benefit and find out if you're eligible.
Military & Veteran License Plates
You can get special license plates that show your military status or history. Smaller versions are available for motorcycles. Go to the Motor Vehicle Division (MVD) website to see some options. (Click on "View Available Plate Styles," then click on "Continue.") Options include:
Veteran
Women Veterans
U.S. Marine Corps
Purple Heart
Freedom
These cost $25 up front, but $17 of that goes to the Arizona Veterans Donation Fund, which helps to provide for veterans' healthcare, cemetery maintenance, skilled nursing care homes, and education. You'll need documentation for some of the plates but not for the Women Veterans or Freedom plates.
For no added charge, you can also get a handicap symbol added to your license plate. However, you must attach a completed form #96-0104 in order to medically verify your disability.
Hunting and Fishing Licenses
Military servicemembers who are on active duty and stationed in Arizona can purchase fishing and hunting licenses at the same rate that residents enjoy.
Veterans who've been residents of Arizona for a year or more and have a 100% service-related disability can be eligible for a free hunting and fishing license.
There are 27 state parks in Arizona, and Arizona offers a free "Disabled Veterans Annual Day Use Pass" to veterans who are permanently and 100% disabled. Additionally, there are other military passes available for 50% off the regular rate.
In order to receive the free or discounted rate, you must provide the proper documentation at the time of your visit. Appropriate documentation is covered on the Arizona State Parks website.
Arizona State Veterans Cemeteries
Any Arizona veteran with a discharge that was other-than-dishonorable is eligible to be interred for no charge at one of Arizona's veterans veterans cemeteries. There are three state-run cemeteries—in Sierra Vista, Camp Navajo, and Marana—as well as a national veterans cemetery in Phoenix.
Spouses and some dependents can also qualify, though there'll be a small charge for their interment.
Veteran Benefits Assistance
If you're a veteran or current military servicemember living in Arizona, you can receive assistance on your benefits through the Arizona Department of Veterans' Services (ADVS). Their 19 Veterans Benefits Offices offer a variety of services including:
Helping veterans apply for and receive their benefits
Maintaining Arizona's veterans homes
Overseeing Arizona's veterans cemeteries
Coordinating with, and assisting, organizations that serve veterans across the state
Assisting veterans who are currently homeless
Serving the unique needs of female veterans
Supporting education and employment for veterans
In order to start working with Arizona's Department of Veterans' Services, you'll want to begin by connecting with the Veterans Benefits Counselor (VBC) nearest to you through the ADVS website.
It's recommended that you call first to make an appointment before you visit your VBC. You can also call 1-800-852-VETS (8387) to find out when a VBC will be traveling through your area.
Once you connect with them, your VBC can help you with a variety of services.
About Low VA Rates
Low VA Rates is on a mission to help veterans and military personnel get the VA loans they deserve, including fantastic veteran loans in Arizona. We've been focused solely on VA loans since we started, which gives us valuable experience and insight in this area.
Call Low VA Rates for a FREE quote today at (866) 569-8272, and a friendly and professional team member will listen to you and figure out exactly what you need. Or, if you'd prefer, you can start an application with us online.